Enriador, a player who has been very influential in the variant communities at vDiplomacy and Conspiracy, has suggested
Canton
as a
potential candidate
for adoption on PlayDiplomacy's main site.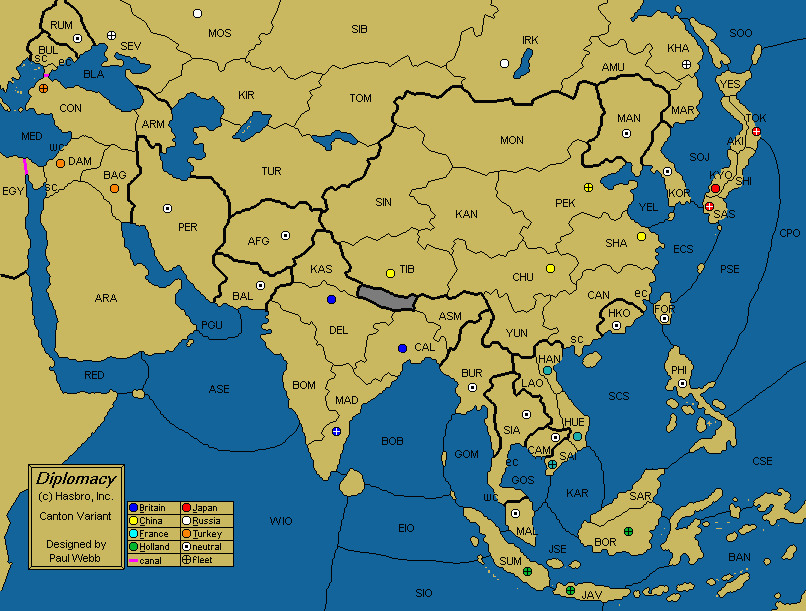 One rule of thumb for variant selection is that we generally want to have our own community, particularly the Play-by-Forum folks, try out a variant before we form an opinion on it. Normally, I'd try to round up a GM for the game, but in this case I'd like to try something new.
Playing on vDiplomacy?
This wouldn't be an official Play-by-Forum game*, as we won't have a human GM adjudicating. What I'd like to experiment with is playing the game on vDiplomacy, since it's free to do so, but using Discord to handle communications. It would be a private game filled solely with PlayDippers. Since vDip doesn't provide any sort of standard notification system (other than an RSS feed), it would be the GM's role to post extra reminders in Discord.
Is there any interest in trying this out? It looks like a solid variant, and the stats from other sites have shown it to be relatively well-balanced. My personal opinion is that I think it could give us a way to scratch the
Colonial
itch without having to take on all of that particular variant's baggage.
Players Interested



NoPunIn10Did
Aeschines
Don Juan of Austria
patatevolante4
AKFD
TTBen (likely)
*I will make a record of the players and their results in PbF Valhalla, using the Madison / Liverpool "Test Bed" section to acknowledge their participation.