192004. PDL D1 Mar G1 FIX
ENGLAND GeoViBase
FRANCE Oxmeister (3way DRAW)
ITALY StarkAdder (3way DRAW)
GERMANY machor
AUSTRIA Badger1991 (3way DRAW)
TURKEY Latanst1
RUSSIA Charleroi
This was an interesting game from my perspective, but one in which my play quality was patchy, and thus I had to work to get into the draw after stagnating in the midgame. It was full of very strong players, with determined performances from my western neighbours.
Early Game
I was given France, something I was initially happy about, but tempered by the knowledge it would be my first-time playing France, which is probably not ideal in PDL.
I was drawn to trying an 'EF' alliance, but aware of the meta of FG alliances being more common in PLD. I reached out to my neighbours and found both to be friendly, but England was more on the same page as me, and I decided I'd go EF. Meanwhile, with Italy, I wanted to build strong relations in the event I wouldn't be playing a med game – I had recently watched the DBNI invitational (with our very own Czar99 in) where the France and Italy players had left each other alone all game to their mutual benefit and saw it as a good model to follow should circumstances allow.
After neutral openings, Germany spoke to us both and proposed a WT – I was surprised by this, but maybe Germany sensed he might be the odd one out? England was keen and I didn't want to be inflexible, so we went with it, and EF became EFG by fall 01 – my first mistake.
During the build phase, the WT was already being strongly discussed by the fellow players, and I had my own worries about it too – I wouldn't be likely to get another build until 03, and that would come at the expense of a country I was friendly with – Italy. I was under pressure from Italy to not build a fleet, and bought myself more time to get out of the WT by using the eastern pressure to justify an army build in Mar instead of the fleet. Back to EF.
Spring 02 saw me, England and Russia (now on board and very anti Germany after the Sweden bounce) pounce on Germany, with my armies moving into position, Russia going to Prussia/Boh. Germany was in dire straits, this was the map after the Russian retreat to Boh:
I had my doubts though, England was more likely to get Holland than I was Munich, and I had an uneasy sense about the English player, arising mainly from his earlier suggestion of me bouncing Germany in Bur which conveniently netted him Belgium.
The Stab of England

Germany got in touch shortly after the Spring stab and proposed to me a very attractive deal, instead of attacking the next turn, I take Belgium with his help and move my fleets up and backdoor England. It was a very attractive offer to eliminate a big threat, and I spent the next mulling it over. While doing so, Germany deployed his cleverest and perhaps cruellest trick of all, as he suggested he was 99% sure that England was a 'solo only' player named Machor (note that Germany himself, was in fact, Machor). Ultimately based on a combination of factors, I could not resist the opportunity to immediately take a strong position and subdue a threat, and I went with Germany's suggestion. It's hard to know how the game would have played out had I decided otherwise, but I regard this as a misstep. EF was now FG for my 4th alliance in as many seasons.
Midgame

Just like Germany, England didn't give up and was in fact probably the most determined opponent I have come across making multiple suggestions every turn to flip me back onside. This time I decided to stick with Germany though. My main problem in the midgame was England outguessing me twice (having first pre-empted my stab) and stalling any progress on new centers until 1905. Germany was beset with his own problems of a seemingly vengeful Russian, whose own decisions were having a widespread impact across the board. AI were getting very strong, while Russia was stabbing Turkey at the same time as being attacked by Austria (hopefully Badger & Charleroi will be able to explain what was happening here). The net result of all this was that the FG alliance was not gaining while AI was getting stronger.
I started aligning myself more with AI, in an effort to either secure a 4 way (including Germany) or a 3 way, and we started to build multilateral relations. After I finally broke England down and seized control of Liverpool in spring 05, England also got in touch offering to be a janissary – an interesting offer, which I wanted to make use of, but was sceptical that I could achieve a solo given the strength of AI.
The Pivot
With England nearly defeated and now moving helpfully (to me) and AI gaining from the destructive and thoroughly counterproductive RT war, I decided that my first priority had to be making myself the only viable option for AI. The positions were very good for a stab of Germany, and after Germany rarely discussed a move which would make him vulnerable (Hol->Ruhr), I took Holland while Italy took Munich, and in the same year as I took Liverpool from England for 2 builds.
Wrapping Up

An agreement was made with AI for a potential 11-11-12 split of supply centers, with Denmark being whoever got there first. Having reached 8 centers I did not expect to be eliminated by AI, but nevertheless made sure to take care carefully balancing strengthening my position with not antagonising AI. However, there was no appetite from either of these players to stab the other, and it was clear that a better result than a 3way was not going to be possible, so it was a matter of supply centers now.
I gained London and Denmark (thanks to an English convoy) in 06 to get to 10 centers. Austria wanted to play another year for his 10th center, which we agreed. I made an agreement that England would keep his last 3 centers due to honourable and helpful play. The last year played out as a formality in which Germany was sadly eliminated to leave the final map: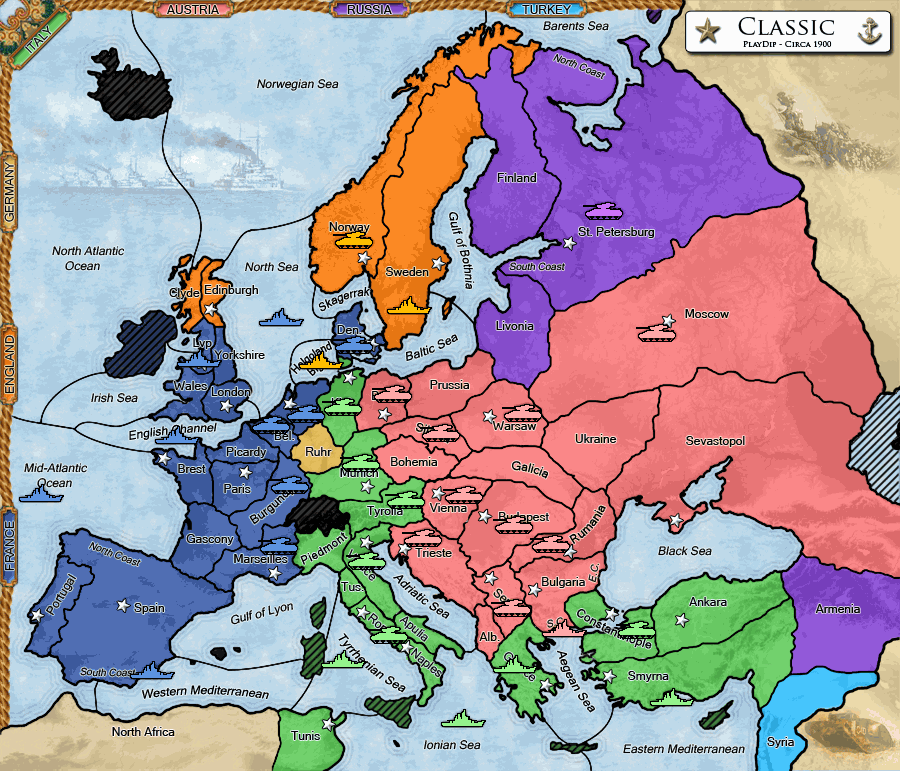 Reflections
Once again successful diplomacy at important points was my ace in this game, compensating for some strategic and tactical missteps.
Some of the players on the board were first class – StarkAdder (Italy) was a great game-long ally and clever diplomat who was a pleasure to work with, and Badger1991(Austria) put in a very assured performance and made for a good cross board ally in the late game. The English player, GeoViBase, is perhaps the most interesting opponent I've come across who made every effort to survive and, in most games, would have managed it – it was a shame we never got to see what we could have done as true allies, but hopefully that will be for another game. Credit must also be given to Machor (Germany), whose was also very resilient and whose persuasion in Fall 02 almost saved his game.
The biggest shame is that I was never able to forge the sort of useful partnership with Russia that I'd expected I'd be able to do as France. For different reasons, we rarely got in the same page, and when we briefly managed to do in Spring 02, I changed my mind. It was also a shame that the interesting Turkish player was never able to make an impact because, rather like in my last PDL game, he was stabbed by everybody.
It was fitting that my allies ended up being Badger1991 and StarkAdder – We must be so alike that I've been mistaken for both these players – apparently with near certainty – by other players.