It seems Sigmar has heard the emperor's prayers. With Lord Bluecillin leading his forces south in his new war against the Telians, who's defenses in Sytria proved to be futile, the Bretonnians kept a second Chaos army from entering Aldorf, saving the Empire. So for now the Empire remains alive thanks to the Bretonnians.
Elsewhere as the Telians and forces of Chaos betray their alliance, the Telians land a force in Norsca, which may enrage the Norscans in the chaos armies but with the forces of Chaos moving towards Telian lands the gain has little strategic value.
The Forces of Chaos have reached 13 supply centers meaning they win! The resistance of the forces of orders is for naught and Chaos will rule the old world. Congrats to Bluecillin for the win.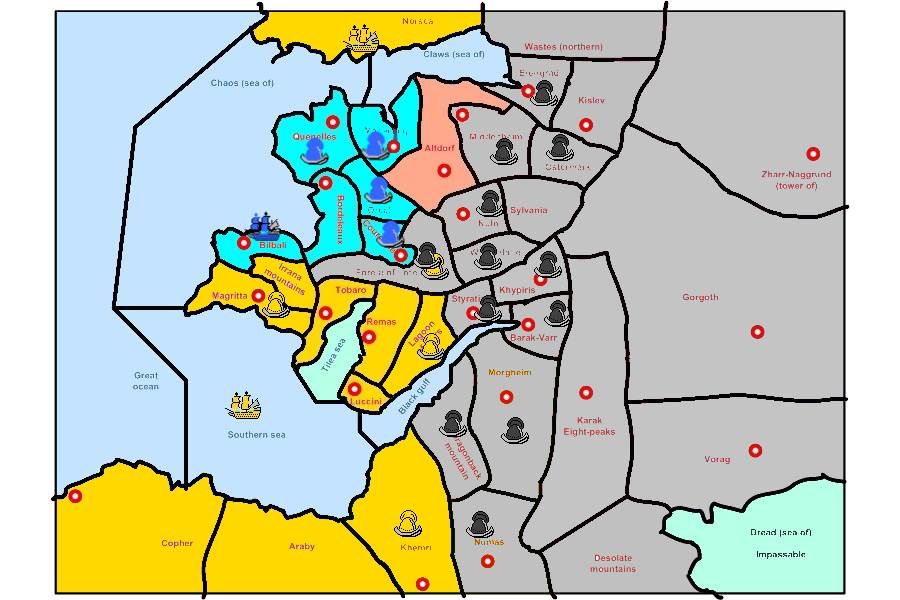 Bretonnia
Massif Orcal-Altdorf [bounced]
Marienburg S Massif Orcal-Altdorf [supported unit has failed]
Borledaux-Bilbali [resolved]
Quinelles H [resolved]
Couronne H [resolved]
Telia
A Magritta Hold [resolved]
A Forest of Loren Support A Styratia Hold [support broken, dislodged. retreat needed]
A Lagoon of Tears Support A Styratia Hold [supported unit has failed]
A Styratia Support A Forest of Loren Hold [support broken, dislodged, destroyed]
A Khemri Hold [resolved]
F Southern Sea Support A Khemri Hold [resolved]
F Sea of Claw -> Norsca [resolved]
Chaos
a Dragonback - Khemri [bounced]
a Numas support Dragonback - Khemri [supported unit has failed]
a barak - Styatia [resolved]
a khypiris support a barak - Styatia [resolved]
a Wissenland support a barak - Styatia [resolved]
a Karak - Barak [resolved]
a Aldorf - Forest of Loren [resolved]
a Nuln support a Aldorf - Forest of Loren [resolved]
a Middenheim - Alford [bounced]
a Eren support a Middenheim - Alford [supported unit has failed]
a Gorgoth - Ostermark [resolved]