This time the Chaos attack on Barak Varr succeeds, and Lord Bluecuillin extends his domain into Barak Varr with the help of the Telians. In the north the Bretonnians strike back, driving the forces of the Empire from Massif Orcal and forcing them to retreat. And to the south the Telians quietly send an army across the sea to land on the shores of Araby.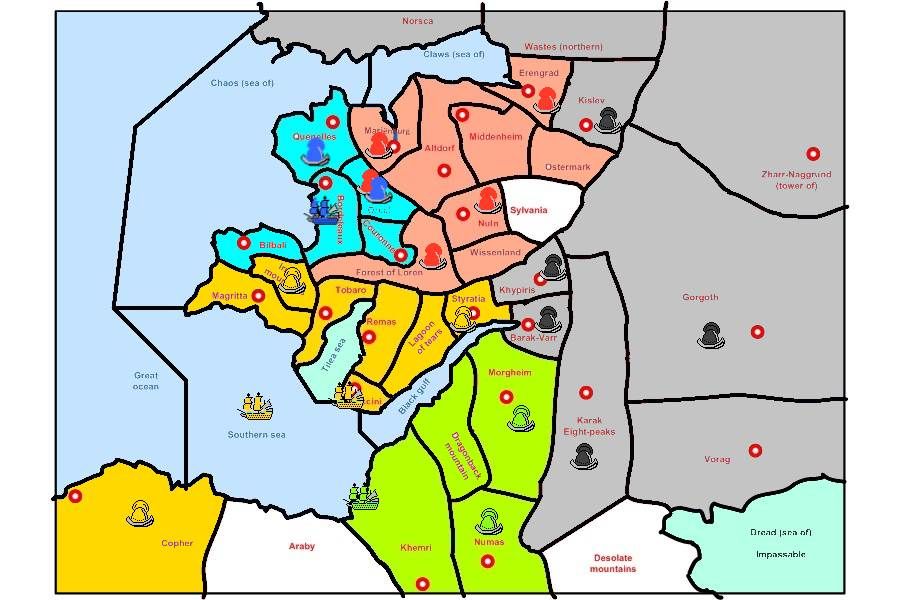 One retreat needed from the Empire. The deadline for the retreat is
Monday, March 31st, 23:00GMT.
Build totals (pending retreat):
The Empire-0
Telia-1
Chaos-2
Greenskins-0
Bretonnia-1
The Empire
A Mar S A Mas - Que [supported unit has failed]
A Mas - Que [bounced, 2v2, dislodged, 2v1]
A Alt - For [resolved]
A Ere H [resolved]
A Nul S A Alt - For [resolved]
The Greenskins
Fleet Khemri MOVE to Black Gulf [bounced]
Army Numas MOVE to Karak Eight-Peaks [bounced]
Army Morgheim SUPPORT army Barak-Varr to hold [supported unit has failed]
Army Barak-Varr BRACE FOR IMPACT (hold) [dislodged, destroyed]
Forces of Chaos
Karak eight peaks -Barak Varr [resolved]
Khypiris support Karak eight peaks - Barak Varr [resolved]
Vorag - Karak eight peaks [resolved]
Gorgoth support Vorag - Karak eight peaks [resolved]
Kislev hold [resolved]
Telia
A Irrana Mountains -> Forest of Loren [bounced, 2v1]
A Tobaro -> Copher (convoyed) [resolved]
F Southern Sea convoy A Tobaro -> Copher [resolved]
F Luccini -> Black Gulf [resolved]
A Styratia support A Karak eight peaks -> Barak-Varr [resolved]
Bretonnia
F Borledaux S Quinelles H [resolved]
A Couronne-Massif Orcal [resolved]
A Quenelles S Couronne-Massif Orcal [resolved]