So a long running ambition of mine is to have a warhammer related variant of diplomacy come to the forum and today one finally has. Many thanks to ErikVerhoeve for bringing this variant to the site and for creating the map. It's a very simple, five player variant of diplomacy.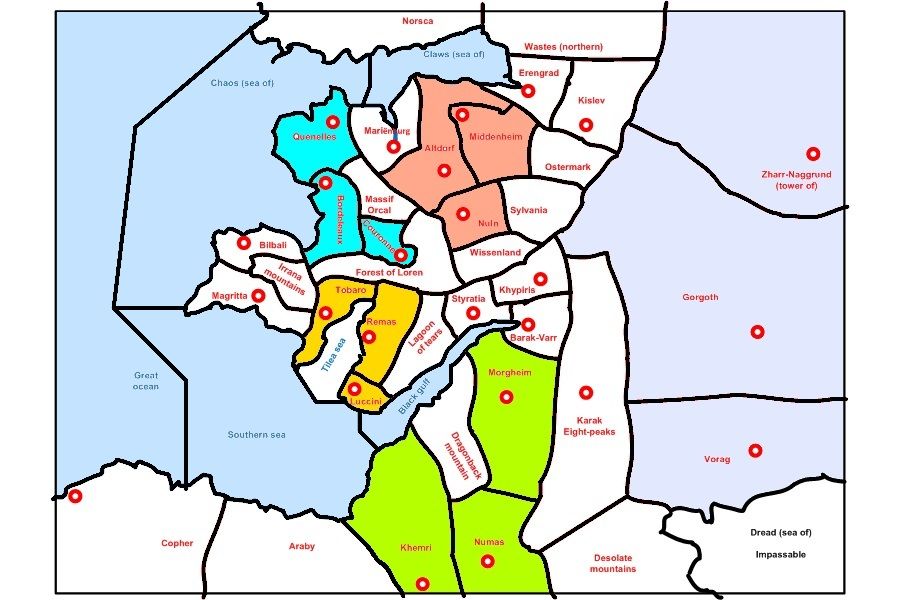 Rules:
Same as normal diplomacy.The five powers are:
Bretonnia-A Qunelles, F Bordeleaux, A Couronne
The Empire-A Altdorf, A Nuln, A Middenhiem
Telia-A Tobaro, A Remas, F Luccini
The Greenskins-F Khemri, A Numas, A Morgheim
The Forces of Chaos-A Zharr Naggrund, A Gorgoth, A Vorag
There are 25 supply centers so 13 are required for a solo victory. The start year is 2522 of the Imperial Calendar.
House Rules:
Orders:
should contain in the message subject game name (Old World diplomacy is sufficient), and the turn season/year. You should also include your country's name in the message. All orders should be sent in a new message each season. Acronyms for the province names are acceptable, and I will post a list of those before the game starts. Please be clear when writing orders, as unintelligible or vague orders will not be processed if I cannot understand them. Questions before the deadline about names etc. are always preferred to NMRs. Questions should have the game name in the message subject.
Mistakes: please let me know if I made a mistake with adjustments. In the event that it happens if someone catches it before the deadline I'll fix it.
Deadlines:
72-24-24, unless there is a consensus for longer deadlines from all the players. I will send out a 24 hour reminder before the end of each spring and fall turn. I will enforce speed deadlines if everyone gets their orders in early and I should process orders fairly quickly, usually within 12 hours. The deadline is final and you really need to get orders in by then, but if I get orders after the deadline but before I update the map I will process them.
Delays can be granted on a case by case basis, but please provide several days of advance warning.
Draws:
Draws will not be accepted before 2528.
NMRs:
Don't. It really bogs down the game. Missing two successive turns (moves, retreats or builds), will result in removal. Three NMRs total or one NMR in the first game year will also result in removal.
In all other regards the House Rules follow the rules for diplomacy variant forum games.
A quick note, this is the first game I am GMing on the forum. I'm very good with the rules having GMed live games before, but I'm not all that good at map making online (one reason units are not on the map yet but they will be soon), so cut me a little slack early in the game..
Countries will be assigned via blind action, so please do not discuss your preferences when you sign up, but sign ups are first come first serve.
Sign up list:
1. ErikVerhoeve
2. bluecillin
3. jqz1212jc
4. McGiles
5.odd creator
Reserves:
marsman57