208396. BootIQ-A-2626 -- AAR
Posted:
23 Jan 2023, 16:13
AAR for 208396. BootIQ-A-2626.
Line-up:
England edmgrim (3way DRAW)
FRANCE theseko (3way DRAW)
ITALY aphyer (3way DRAW)
GERMANY BillyBud
AUSTRIA cwwalker
TURKEY Darryll629
RUSSIA Uncle Lee
First of all, thank you to everyone for a very enjoyable game. This was my first Gunboat game and I have to say, the complexion of this variant over conventional Diplomacy was more striking than I imagined. I feel fortunate to have come out as well as I did especially because of, in retrospect, some rather serious mistakes I made in the form of mixed messages to my precarious ally across the channel. I'm glad that my overtures in the Public Press from 1906 on allowed cooler minds to prevail against some clearly ambiguous moves I made in the vicinity of Belgium.
I not only welcome, but invite all of you to add your two cents to this thread, in particular if you have suggestions about how I can improve "communication" with prospective allies. And now, on the The English perspective:
1901
A fairly standard opening for England in Spring where I would normally negotiate a DMZ with France for the channel. I'm not pleased that he moved in there, but I take comfort from his attempt to Burgundy as well. I know this is going to delay my landing on the mainland by a year and I debate whether the lesser of two evils is a French presence in that channel with two builds or promoting a German resistance with the hope of repelling France. Ultimately I decide that with the mess that is brewing in The Balkans, France will appreciate my blocking Germany from Holland and allowing him two builds as sufficient motivation to leave the channel empty in '02 (and beyond)
1902
Did I mention that there is trouble in the southeast region of the map? Italy has come out swinging and the balance of power down there is already precarious. I see that at least two of A-R-T need to enlist help from another (or someone else) and I know Germany will not be coming to anybody's aid. With everything going on down there I see and opportunity to sweep across the map diagonally from the top left to the bottom right. I want to promote cooperation with France and also make a friend in Russia. So Spring is about preparing for Fall. I'm figuring Germany will go for Sweden and expecting Russia to block him. I'm surprised when the conflict is over Baltic instead. But I don't care, I move into SKA from Norway and backfill from North Sea, putting EDI into North Sea. With that unfortunate Fleet in BRE, London isn't going anywhere anyway.. In Fall, I see a way to put Russia into Sweden and me into Denmark. But Russia doesn't see it. At the end of the year France gets his build and I get Denmark. Germany proactively destroys so he can rebuild. Meanwhile it is not lost on me that Italy is the only other power building and that Austria is not l long for this world. I am hoping someone in that neck in the woods will figure out how to slow down what appears to be the beginning of runaway Italian train.
1903
I make a mistake here that I (at times) rationalize as having been an accidentally shrewd decision, namely proposing the R-T draw. I am initially apologetic for this and wonder whether it had any impact on any decision making processes. I was just messing around with the interface; I thought PlayDip.com did not allow draws to be proposed before 1905. On the other hand, it is not lost on me that if R-T had found a way to work together, they might have been able to slow (if not stop) Italy's progress. I'm curious, though. What was your reaction to this proposal?
Russia's frustrates me further. Instead of taking the hint from the previous year that I want to put him into Sweden, he retreats back to St. Pete. His miss will be my gain....sort of. I'm still not really wanting to go after Russia. Meanwhile, I am increasingly concerned that Italy is getting way too comfortable with the gaping DMZ in the Western Med and Gulf and hoping France is paying attention. But he is not cutting me any slack maintaining a distinctly northern posture.
Right now, it is E-6, F-7, I-7, G-3, A-3, T-4, R-5
1904
I am not happy with the F-R builds. As for Russia, his greatest risk is in the south and I have sent him signals that I am willing to give him slack to address them. As for France, I have left him alone in The Channel and hope he sees the danger Italy poses. Builds in Brest and St. Pete are both worrisome. My focus this year will be more about building a defense than about any acts of aggression. I decide to send France a signal that he needs to vacate the channel. Meanwhile, I am not going to encourage Russia in Scandinavia either.
I'm not really understanding Germany's moves to LIV, but when he makes a play for St. Pete in Spring, since Russia isn't doing me any favors, I decide to support him in Fall. But in Fall, he inexplicably goes for Moscow.
Nevertheless, I take Sweden. France takes Munich while Austria loses three to Russia and Italy.
1905
France finally builds a fleet in Marseilles, but I am not so sure that's only because Brest is occupied by that army. Does he have eyes on invasion?
Meanwhile Italy builds three and has a spare build waiting for next year in the bank.
France proposes a draw with me which Italy obviously rejects. But the message is not lost on me. Things are tense in our neck of the woods, but there are bigger fish to fry. In fall, I pull out of the channel and hope tht he, in turn will choose a land rout for his fleets making their war to the Iberian coast. Meanwhile, I am not focussing on growth this year as much as trying to build a strong defense and opportunity for '06
France disappoints me by re-taking The Channel in Fall and further worries me with another fleet in Brest!
1906
I'm a little frustrated with France. I want him out of my hair, but I want him to know i don't want to go to war. So I reiterate my desire to draw with him before launching an attack in his direction. I just want him to give me some breathing room. I know he is taking Berlin, but I don't want him going further up on me, so I follow hem from Denmark into Kiel. I go up one, but he doesn't lose.
Meanwhile, Italy rejects my proposal and immediately follows with on of his own where he adds himself into the mix. I am happy to accept and France seems receptive too.
In Fall, I move to Holland. It occurs to me afterwards that while the numbers are the same, my being in Holland puts unnecessary pressure on Belgium. In my mind 6 to 1 -- half dozen the other, but Holland borders North Sea while Kiel is insulated. Fortunately, France does not overreact!
At the end of the year, absent agreement from Germany, Turkey, and Russia, France and I are matched in strength and Italy is plus 1. We are getting to parity. Meanwhile, Italy is bogged down all of a sudden. Not from any coordination of his enemies but because of the geography.
1907
1907 marks the start of me starting each day with a new EFI Draw. GTR are adamant about not approving it even though the writing is on the wall. On one hand, props for fighting to the end. On the other hand, prolonging the inevitable, especially in light of the Italy's proactive retreat from France's borders.
I, on the other hand, and more wary of a stab from France. Italy is giving him room to turn on me. I am mildly aggressive towards him. We play back and forth over the channel while my primary focus is on getting Italy into SEV and me into MOS and WAR.I keep wishing Berlin would go to Prussia to accelerate the inevitable, but it's not a huge deal. By proactively proposing the draw along with Italy's enthusiastic agreement, I feel comfortable with the detent along my borders with France. But I make a mistake moving on Belgium. It was an unnecessary move and I apologize. I hope that even though France shoves me out, he notices that I proactively retreat anyway. Besides that, my token jabs are just that, nothing strong enough to damage, but enough to discourage further aggression.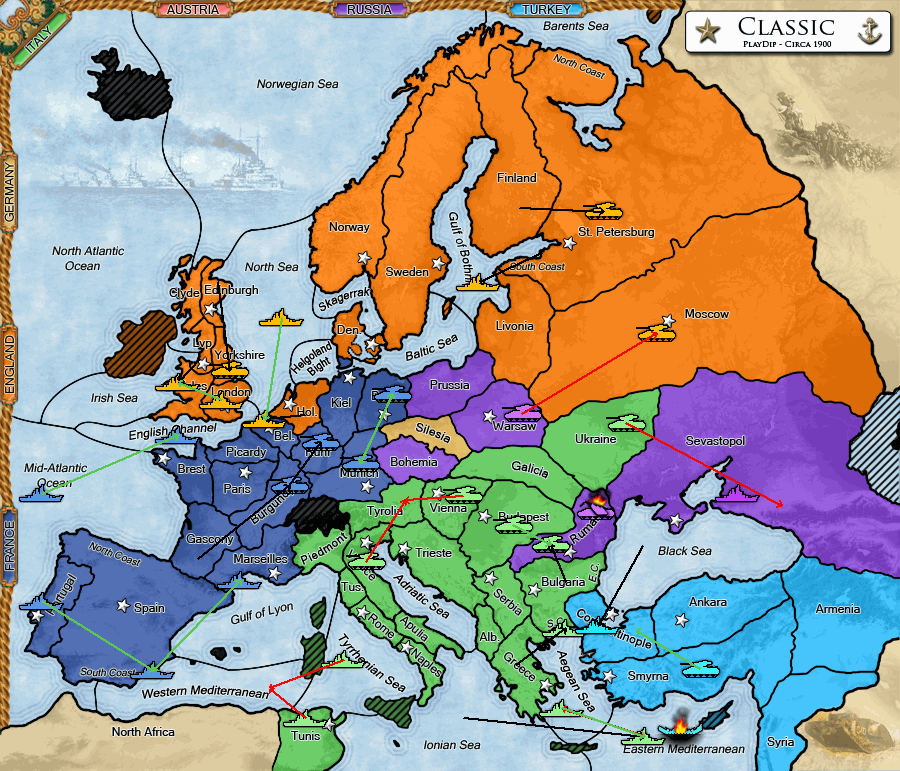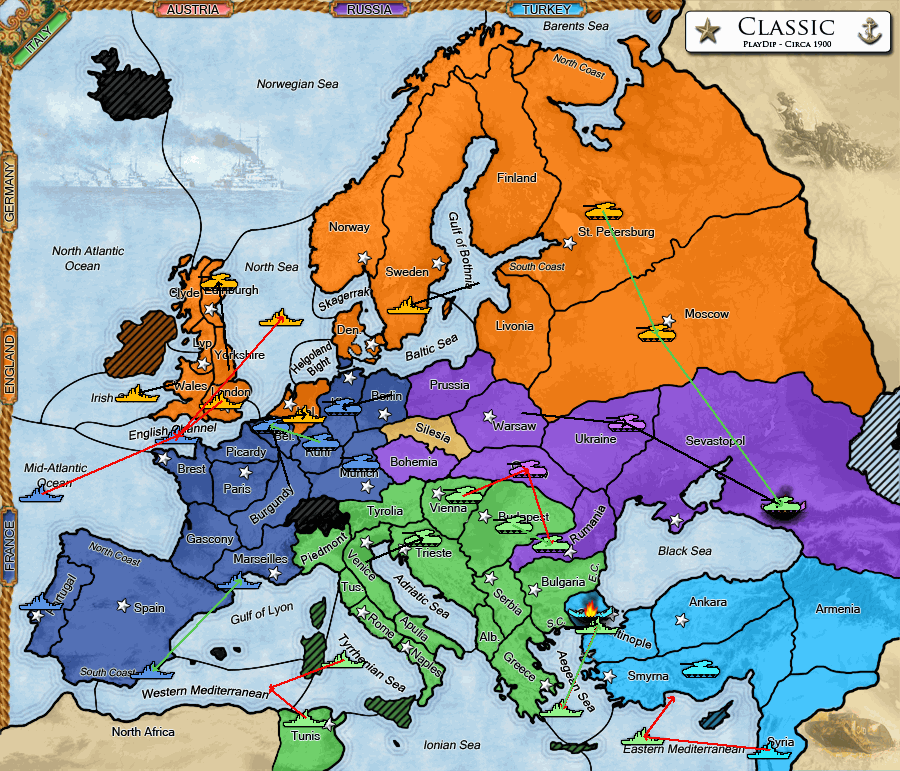 1908
Final map: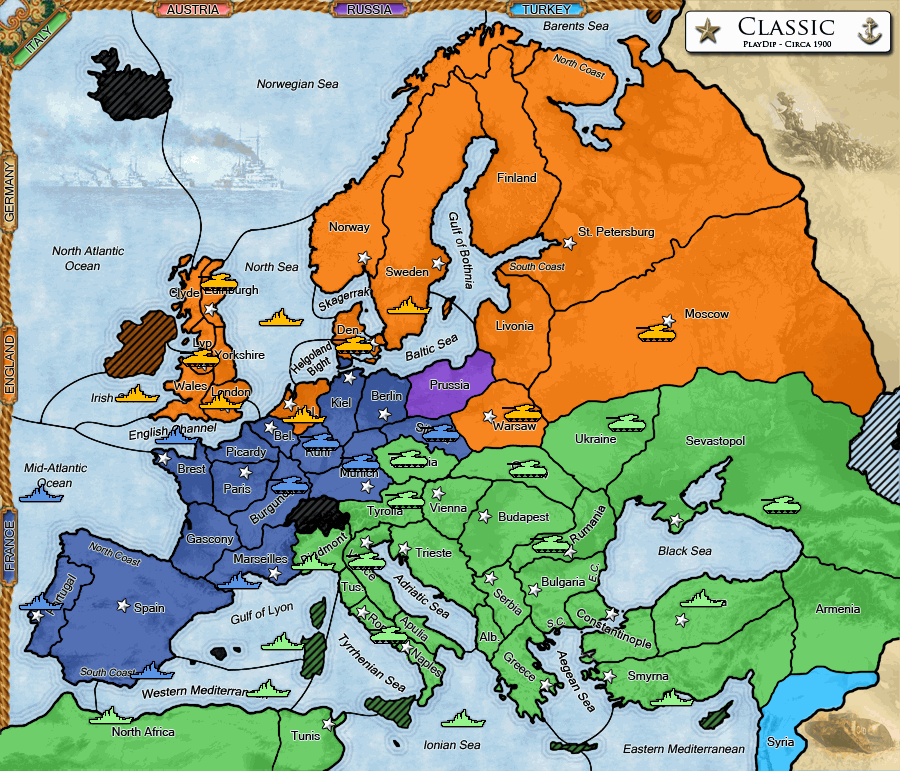 Nothing more to say. Thanks for the game!