• Map variant: Standard
• game type: anonymous_players
• Stats: friends
• Draws: Open Ballot + DIAS
• Public: no
• Variants: Classic
• Map: mapv2
ENGLAND Pootleflump
FRANCE Abraxsus
ITALY mightyduk
GERMANY Custer
AUSTRIA deja
TURKEY buckielugger
RUSSIA Oxmeister
This was my first tournament game which took me though a rollercoaster of emotions.
I'll focus heavily on 1901 because this was the year that setup the board dynamic for much of the game. I initially looked to secure friendship and partnership with Italy while getting either Austria or Turkey as an ally against the other, with my preference often being slightly towards Austria. S01 negotiations were more productive with Austria with the exception that Austria kept talking about an empty Galicia DMZ, which I said was a possibility but was not given a clear reason to justify it. As the phase was about to end, Austria again mentioned unilaterally that Galicia was going to be an empty DMZ for me to go north (which I didn't want to do) and alarm bells started ringing. I could have insisted on a bounce, but decided I'd rather test if Austria was hostile or not, so I told Austria I had 'noted' his comments but moved to Galicia nonetheless.
Galicia succeeded, and by the fall I'd made my first enemy. I'd reasoned that if Turkey didn't seem friendly thereafter, a forgiving Austrian would still work with me. Unfortunately, I didn't get a forgiving Austrian, and Turkey was nominally on side but saying and doing little. It was at this point that Italy declared he was only willing to do a 3 vs 1 if it was against Turkey, not Austria, further complicating matters. In the end it didn't seem I'd be able to turn things around with Austria and I decided to use my Gal unit offensively. Statistically on those openings Gal-Vie is more likely to succeed, and that is what I went with.
Matters were more interesting in the north though, England proposed an EFR northern alliance, and as they were clearly the best communicators I agreed. The initial idea was to divide up Germany which would give me security v England and a couple of builds. I did use the EF alliance to suggest Germany gives me Sweden, but I was minded nevertheless to side with EF thereafter. The complication was that I got Rum, Vie and Swe for 3 builds, which led to difficult discussions. EF wanted me to defer a build, with StP being the suggested waive. It wasn't the suggestion to waive a build so much it being requested to be StP that spooked me the most. At the last minute I weighed up a clear show of friendship from Germany (who needed me either way) against EF who (in my mind) were asking me to make myself more vulnerable in the north, and decided to throw my lot in with Germany, and built a northern fleet. England reacted strongly on both public and private press to the northern fleet build, and it was clear the stage was set for a bitter conflict that would last the next 6 years.
It was probably a diplomatic error not to negotiate with EF around instead waiving in Moscow, and combined with my early stab on Austria allowed England to paint me as an untrustworthy rogue, but the reality is that both moves were partially inspired by breakdowns of trust. Two misunderstandings that would shape the whole game!
1902 to 1903 were difficult years for me, I took Norway to start with but it was clear that the war with EF was not going to be easy. France moved his fleets to help defend England , and while it initially looked an obvious sell to get France on board with a Sealion, France was clearly very loyal to England and reacted badly to me even proposing it. Although we had more combined units, France had no pressure from Italy (who were loyal to Austria, both of whom seemed more aligned with EF than RGT) meaning that EF's double corner advantage was more like triple corner advantage and they were able to put a wall of fleets in the northern seas. Germany was my only buffer from EF, and he was allied but only sending fairly short messages, while Turkey in the corner was hardly doing anything except support holding his own units. I needed to find another ally to take the fight to the west and worked hard on Italy , setting out detailed cases for working together until eventually I was able to flip him in spring 04.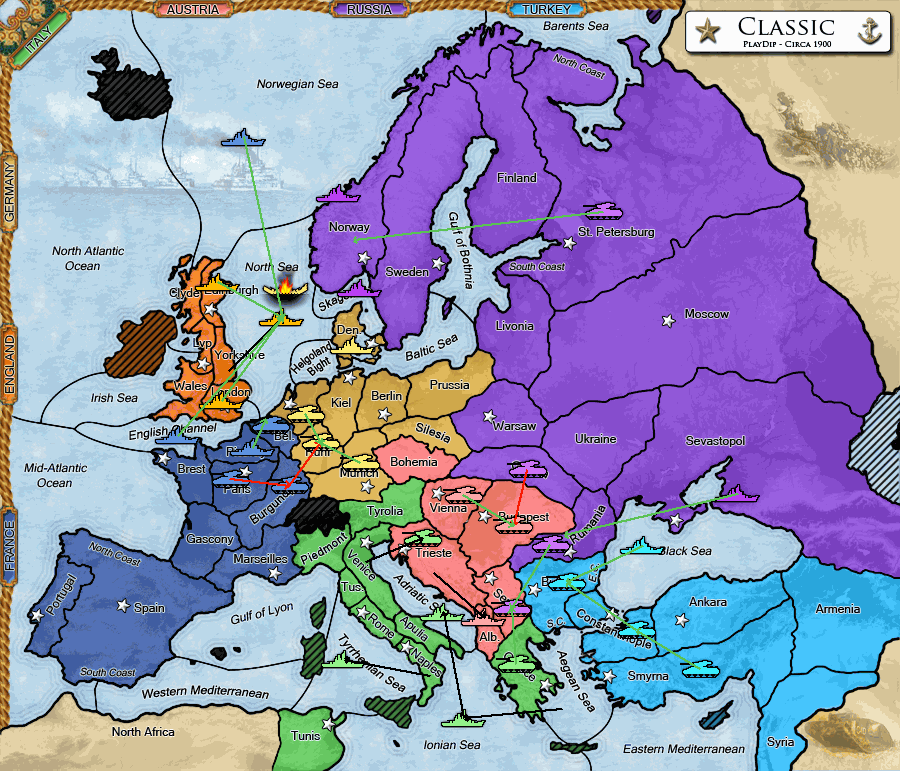 The position when Italy switched sides

04-06 were hugely successful years which saw me and Italy carve up Austria, while starting the dismantling of France (who still had all his fleets in the north) and Turkey. Contrary to my expectations though, France did not move his fleets back down south, and Italy was getting most of the gains – England was consistently on my case about me needing to stab Italy, otherwise they would throw everything his way, and they were making good on their promises.
With EF now on the ropes in fall 06 and likely to be eliminated (or close to) by 09 , and Italy about to explode, negotiations intensified with EF. I did actually want to pivot to some degree as relations were getting strained with Germany, but neither side trusted each other. To keep my options open I proposed a 'bridge' solution – I would only nominally attack them in a way that would allow France to move some of his fleets to defend Italy, and we could reassess in 07. I also negotiated an agreement with Italy whereby he'd take the solo off the table and I'd allow him a clear top as long as he got me into double figures, so I felt I'd have the option on which to turn the next year.
EF honoured our bridge agreement (as did I) in the same turn as Germany tried to take Sweden with force, and Italy stabbed me over Bulgaria (by now the 3rd 'mini stab' by Italy) which made my decision very simple, but would EF notice that my leverage had suddenly shrunk? It seemed not, they wanted to survive and were as keen as me to do a deal. We made a deal for me to get 2 German centers while they got 2 and could push back vs Italy.
Despite the mini-stab by Italy and his 3 builds, I managed to persuade him to build a fleet in Venice for his garrison, to give myself security in the Balkans. He asked for non-aggression from me there in return which I agreed to. This was my most important piece of diplomacy all game, although at this point I was genuine with Italy about this - I was happy to call it in the Balkans (with the exception of getting back Bul) on the basis that I could stall him with France, pick up a couple of German centers and maybe add something else at the death for the win. This changed when Italy kicked me out of Bul in fall 07 , leaving me no way of getting back in without going to Serbia, which I could still do thanks to my army advantage.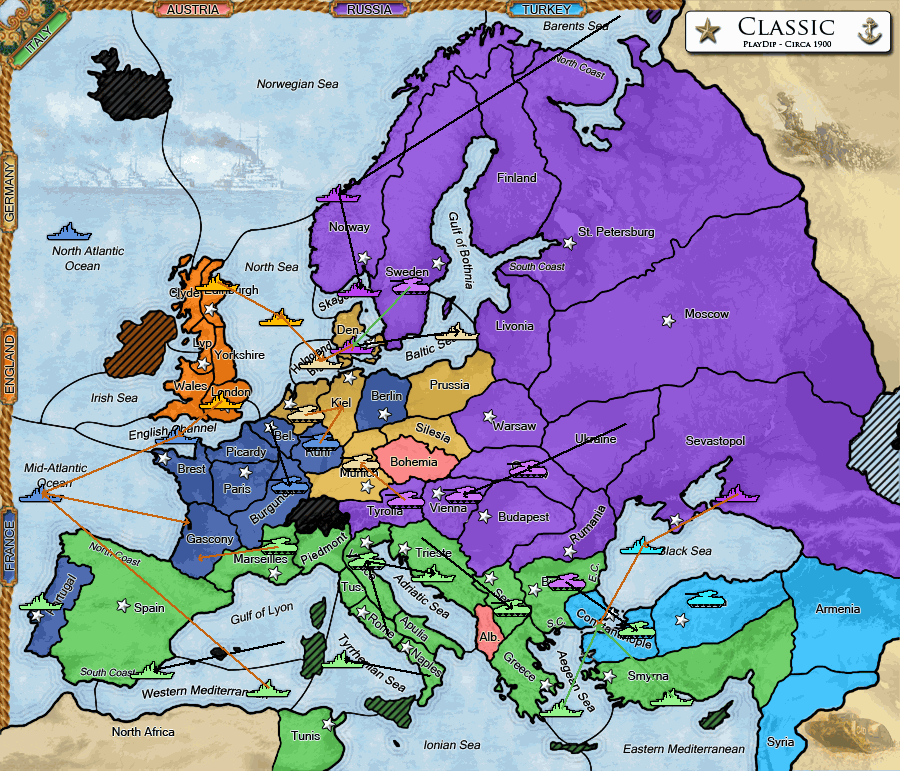 My pivot - the crucial army advantage in the balkans would be decisive
After I'd taken Serbia, and EF stalemated Italy, the win was secure, and we pushed on to get a few more centers between us, leaving me with a comfortable 14 to 8 win, netting 89 points in round 1.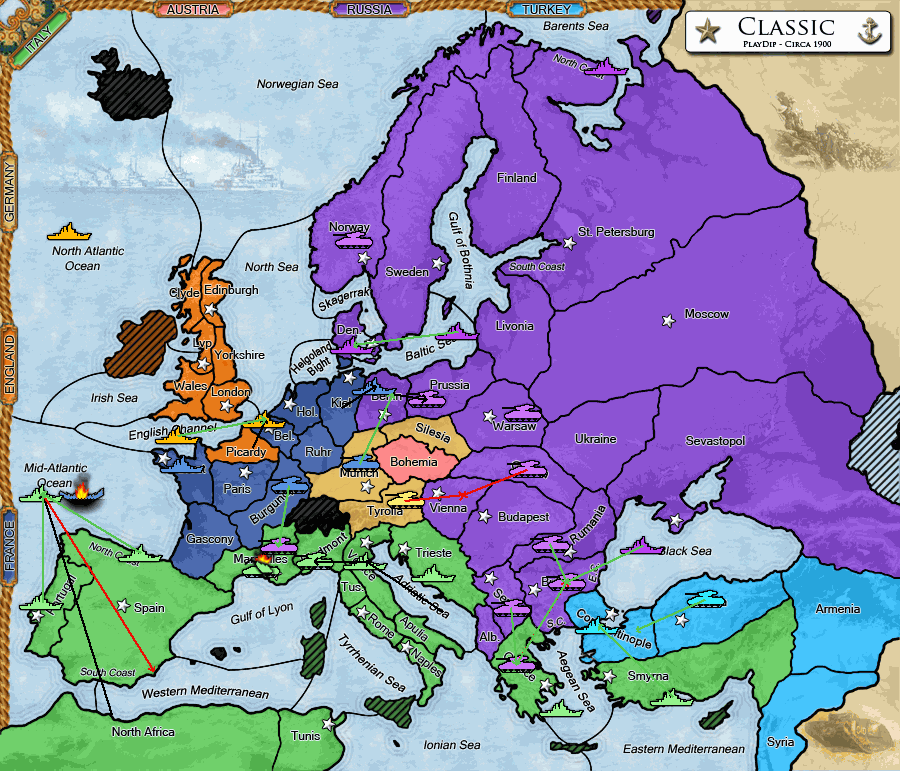 The final map - Marseille for Berlin was a swap based on my support being cuttable , both France and I were loyal to each other despite it being the last play
Reflections
This was a hard game, where I ended up stabbing all my competitors at times (a diplomacy first for me), but one where I worked hard to find points of leverage with all the powers to ensure I could keep people working with me. I'm not sure it would have been so wise in a non time limited format, but in this format it worked well. Indeed, by the pivot point (s07) my minimum points 'floor' was about 24 while the upper end was about 90, both against a current expectation of 30-35 points, so risking the pivot was clearly incentivised by the scoring system.
All my opponents proved interesting but playing Pootleflump (England) for the first time was an experience. I don't think I've ever come across a more persistent communicator and at times it was exasperating, but it was ultimately crucial because it kept me talking to them and in the end we found common ground which saved her from elimination and allowed me to top the board. I think she got the measure of me and realised that no matter how pushy she was and how much I protested, I'd always listen if I thought it was in my interest. Other players in her shoes would have been eliminated, so credit where credit's due here.
An honourable mentions should also go to Italy, who I enjoyed speaking with for long periods of the game and whose sportsmanship after the stab was impeccable. Italy's own pivot in 04 was well timed and it was a solid start to this first tournament too.
The only shame I felt, was that Germany and Turkey, though both loyal allies, didn't exchange much detailed press, which made it difficult to achieve as much with them.