This was my first game back after a few years away from Dip. I drew Italy, which I wasn't thrilled about, but endeavoured to make the most of it. Things got off to a bad start after the first move and then quickly got worse. I spent most of the early and mid-game thinking I was surely about to go down in flames. But then I managed to get back into it and ended up as the minor power in a 3-way draw. (And I figure if you've got to 3-way draw, best to be the smallest of the three!) Here was the final board: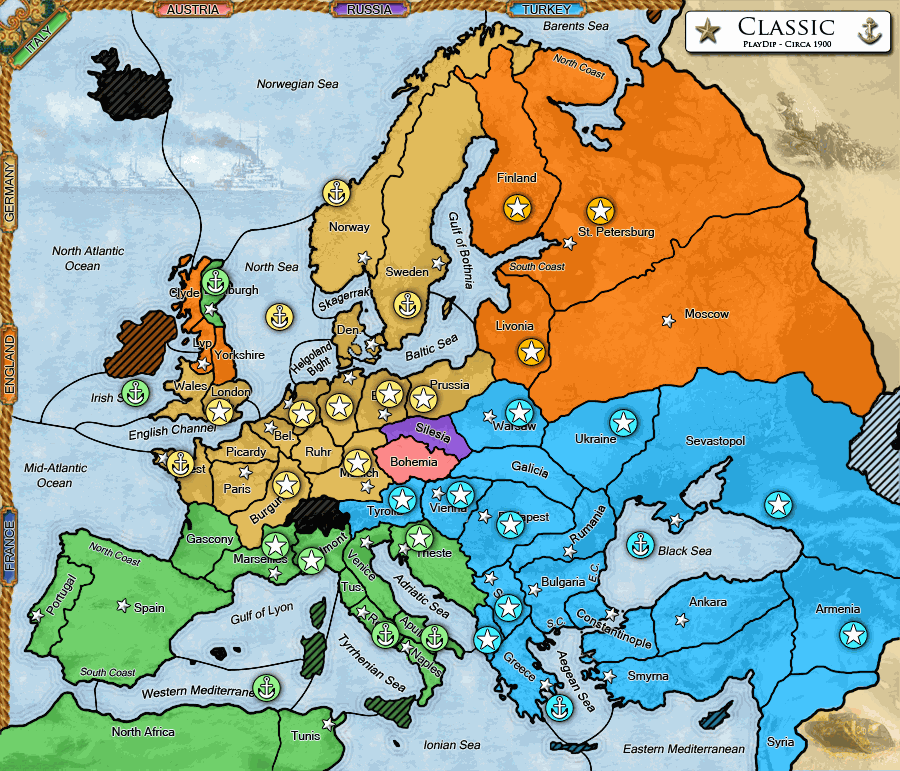 England surrendered at this point, so the rest of us decided to vote on the draw then rather than wait for a replacement. But, back to the beginning. I started out by reading up on the other players. It looked to me like Turkey would be the greatest threat to my prospects, both because Turkey and Italy are naturally at odds, and because he was clearly a good player, with a long history of solos. As for my other neighbours, France looked like a decent player as well, and Germany and Austria had no history.
Before speaking to anyone, my ideal hope was to join with Austria and ideally Russia to take out the Turkish threat first, then ideally turn on Austria with Russian support. But of course I reached out to everyone and tried to keep as many options open as possible. There was some initial confusion with Austria as he mistook my suggestion for a Lepanto as a request to Key Lepanto, and it took a few messages to sort out the fact that those were two separate openings and I was not suggesting he allow me into Trieste. So I didn't have a ton of hope there, but he did agree to an alliance and seemed genuine. I suggested that he make an arrangement to bounce Russia in Gal to be safe and suggested he move down to Ser and Alb to take Gre in the fall. He agreed with those moves and asked m e to pull Venice back to Piedmont in return.
As it happened, I was also talking to France, who was asking me to bounce in Piedmont, so that was perfect. I also wanted to take the opportunity to secure a promise from France not to build a fleet in Marseilles, since obviously that would mean aggression in my direction, and would prevent me committing to a Turkish attack. He was hesitant at first, saying he didn't want to make any promise he couldn't keep, and that he might need to build defensively if I were to move to TYS for example. On my assurance that I would not to so, he agreed not to build in Marseilles.
I exchanged some initial pleasantries with Germany, but didn't get too specific yet. With Russia I tried to float the idea of collaboration, but he was playing his cards very close to the vest, so didn't have much confidence there. Still though, I had firm commitments of help and non-interference from Austria and France, so things seemed good to go.
Of course, I did communicate with Turkey as well. Unsurprisingly given his record, I found his diplomacy to be exemplary. I tried to be as honest as possible, explaining that I saw him as the greatest threat, and normally as Italy would try for a quick Turkish downfall. However, diplomacy is the most important thing, and I would be willing to overcome that tactical disadvantage to the alliance in return for a reliable partner. I said I'd be opening with a standard convoy to Tun and would keep my options open, but that I would be happy to work with him if the opportunity arose. And that was true, inasmuch as I would work with him if everything else fell apart and I had no other choice, and would keep that option open as long as possible. ... Which turned out to be a good thing, because it's exactly what happened.
Oh, and England didn't reply to me in S01, or at any other point in the game. It appears his only goal or plan for the game was to attack Russia with everything, and I didn't fit into that plan, so was irrelevant to him.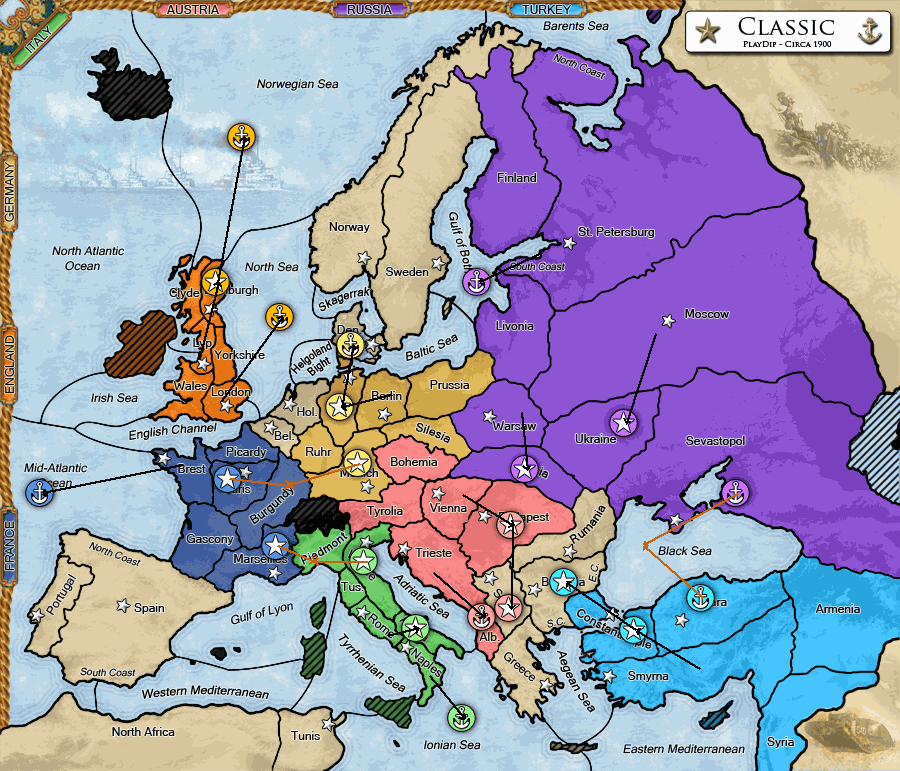 So, the bounce with France goes as planned. It appears he arranged a bounce with Germany as well. England has somehow gunboated his way to a two-center uncontested opening. But The most interesting (and unfortunate) outcome is that Austria didn't listen to me about protecting Gal, and now looks to be in serious danger from both Russia and Turkey. With Russia committing against him that hard, it's difficult to imagine he's going to be much support in a Lepanto attack against Turkey, so I'm rapidly re-evaluating my intentions here. Do I slide into Trieste and hasten his demise (followed by quite possibly mine), or do I try to turn Russia away from him and toward Turkey...
I'm not getting much diplomatically from Russia, and Turkey still seems like the most reliable player on the board by far (albeit still the most dangerous). I trust France to hold to his agreement not to build F Mar, so would prefer to focus east. I decide my best shot is to take the Austrian center. At least then I'm sitting on 5 and have some weight to throw around. Too many Italys just camp indecisively on four until someone comes their way and it's all over. That's not going to be me. So, I'm not too hopeful at this point, but I figure that taking a piece of Austria is my best shot, and from there doing my very best to win Russia or Turkey to my side against the other.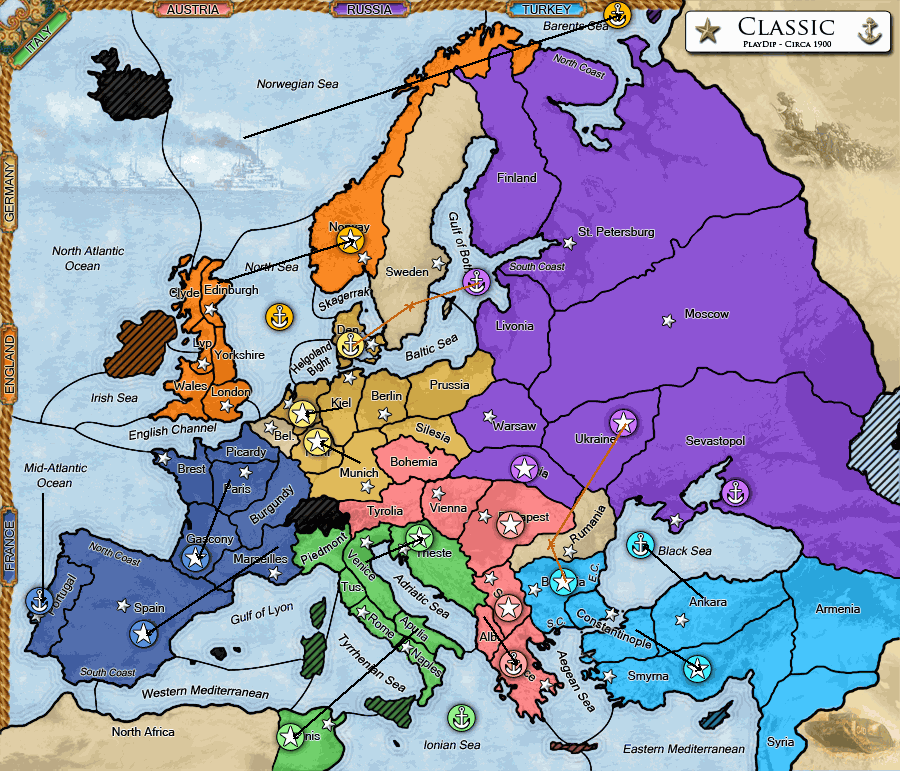 Well, that was unexpected. Russia aborted the attack on Austria and just tried for Rumania, which Turkey blocked with Austria's help. Also it appears everyone's gunning for Russia, with England passing up a guaranteed Belgian gain to fully commit vs Russia, and Germany blocking him in Sweden too.
I have to think Germany and England are aligned, despite Germany telling me he hadn't heard from England. The question is, is France in on this? His move to Gascony is a bit perplexing, to say the least. Picardy would have made a lot more sense if he were moving against Germany or England. Even against me though, I'm not entirely clear how an army in Gascony helps him. Maybe he's just doing it to keep England from building defensively, and then he's going to (hopefully!) build F Bre. That said, E/G's moves are either very trusting, or indicate they have an alliance with France, so I'm getting a bit worried.
So, I do my best to keep options open. I apologize profusely to Austria, explaining that after Russia's moves I figured he was done for, and my only shot at not being next was to try to build up while I could. (Which was true!) But that now since things had clearly changed with Turkey helping him keep Russia back, I would obviously re-evaluate and pull back. After all, it's looking like a western triple, so we shouldn't be fighting. ... Then I spoke with Turkey and made plans to carve up Austria between us.
Austria simply asked that I not build in Venice to prove my intentions, and then said he wouldn't actually even take Tri back right away since his units were occupied, as long as I pulled back to Venice immediately. I figured from this position an army in Rome would be just as good as an army in Venice in terms of collaborating with Turkey to take down Austria, since A Tri wouldn't be able to advance in the spring anyway. So I agreed, and built an army in Rome...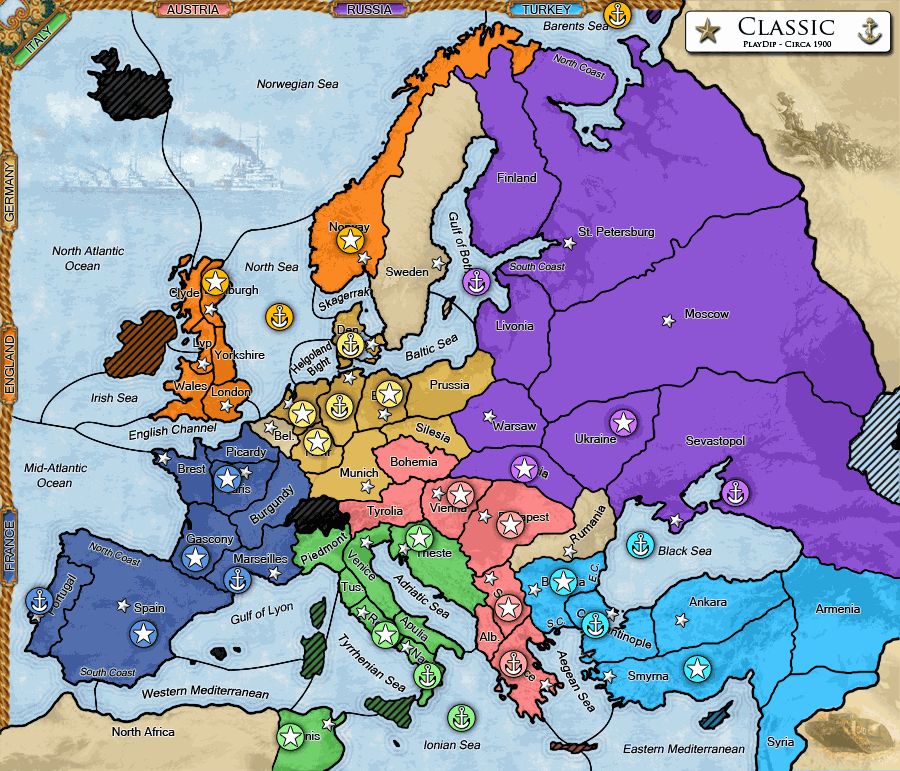 ...and France builds F Mar. I really should have foreseen this, as all the moves were pointing to it. And if I had, a third fleet would have been
much
more useful than the army I built. Definite mistake on my part there. The silver lining is, I'd gotten such a clear promise from France not to do this that it was unambiguously a stab. So I knew my only chance was to throw everything in his direction.
So, I let Turkey know I couldn't attack Austria with him anymore, because clearly the Western triple was on, and I needed to fight France, lest they sweep across the whole board. I reiterated my apology to Austria and pointed out that I'd built as promised and would of course be pulling out of Trieste, and thanked him for not taking it back immediately, since the extra unit would help me hold off France, which benefits us all.
I also reached back out to Germany. We'd been talking a bit, and he'd mentioned frustration that England just wanted to attack Russia, and France wasn't interested in an alliance either, so he was somewhat stuck. He said he'd be happy to go north with France if I could help convince him. I responded that since England is occupied and France doesn't want an alliance, why doesn't he ally with
me
,
against
France? And he agreed. So, we'll see how that pans out! If he comes through, it could be the lifeline I need. (Aside - as France neared elimination later in the game, he told me that the western triple had been Germany's idea all along. So perhaps Germany wasn't being entirely forthright here. But then, it is Diplomacy...)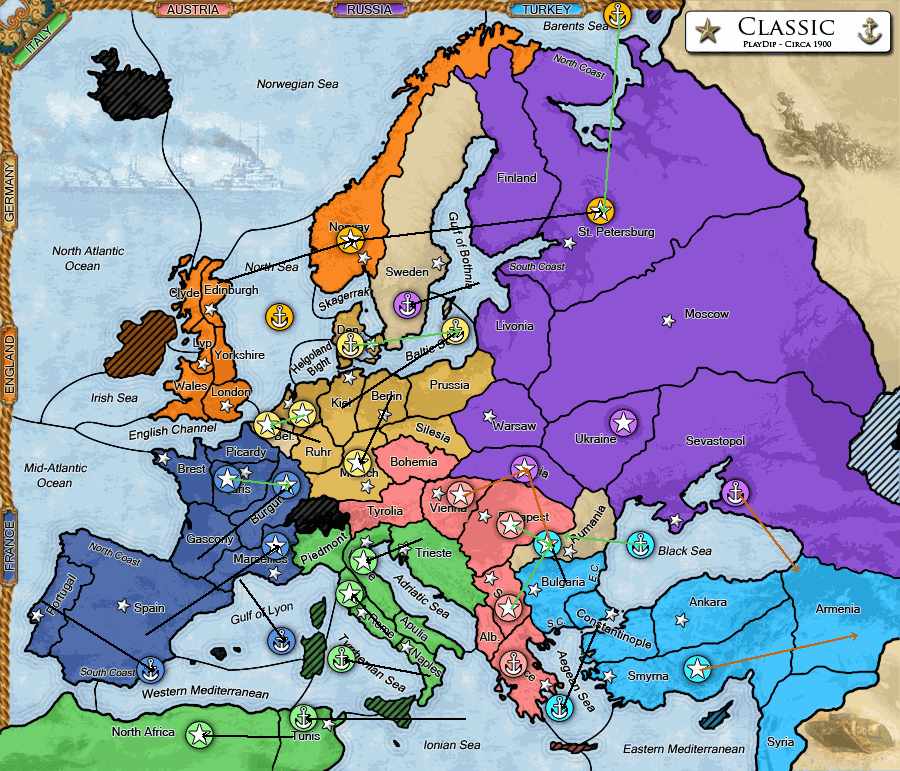 France still gunning for me, but won't get anywhere without help.
Austria kept his word to both me and Turkey.
Turkey moved as expected, although his F AEG is a bit concerning (And should be to Austria too...)
Russia's still screwed. Hope he can at least hold them out of Sev this year.
Germany still claiming to be on board with attacking France, and his moves appear to back that up. France also appears to distrust him. So IF the east leaves me alone, I should be able to make gains there.
Austria's going to want to make gains somewhere though, and with Turkey taking Rumania it's tough to see where else that will be. And with Russia almost done, Turkey will be attacking Austria or me next, almost certainly. He may hold off as long as there appears to be a western triple alliance, but that won't last long if Germany does attack France. Of course I'm keeping in contact with both Austria and Turkey, trying to keep on their good sides!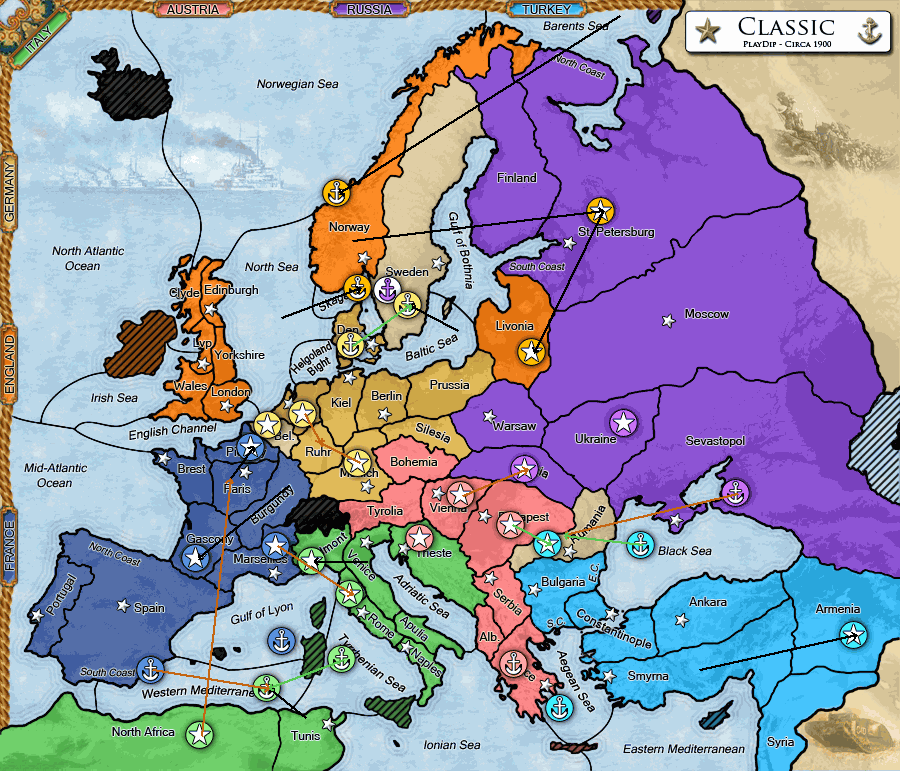 Well, that could have gone worse, but it also could have gone a lot better. I had hoped Austria would let me keep Trieste one more year. His taking it now doesn't make a lot of sense, since he can't build. However since France only has two fleets I'm not completely screwed. Germany's moves are non-committal, but he does tell me he's going to move more decisively against France now.
Turkey has also been cagey, but very communicative. Thinking he's very likely going to solo.
And while Austria taking Tri is annoying, he's not fully attacking me, or he would have moved his fleet. At this point I'm hoping I can strengthen the Germany/Austria/Italy relationship and convince Austria to be more worried about Turkey than me. Which he honestly should be, but it'll still be tempting for him to take the easier short term gains. (Especially after I started the game by stabbing him...)
I've asked Turkey to build an army this turn; if he does that'll keep me safer, but I expect he'll go fleet since I don't have any leverage, and fleets let him either attack me, or stab Austria on the way past.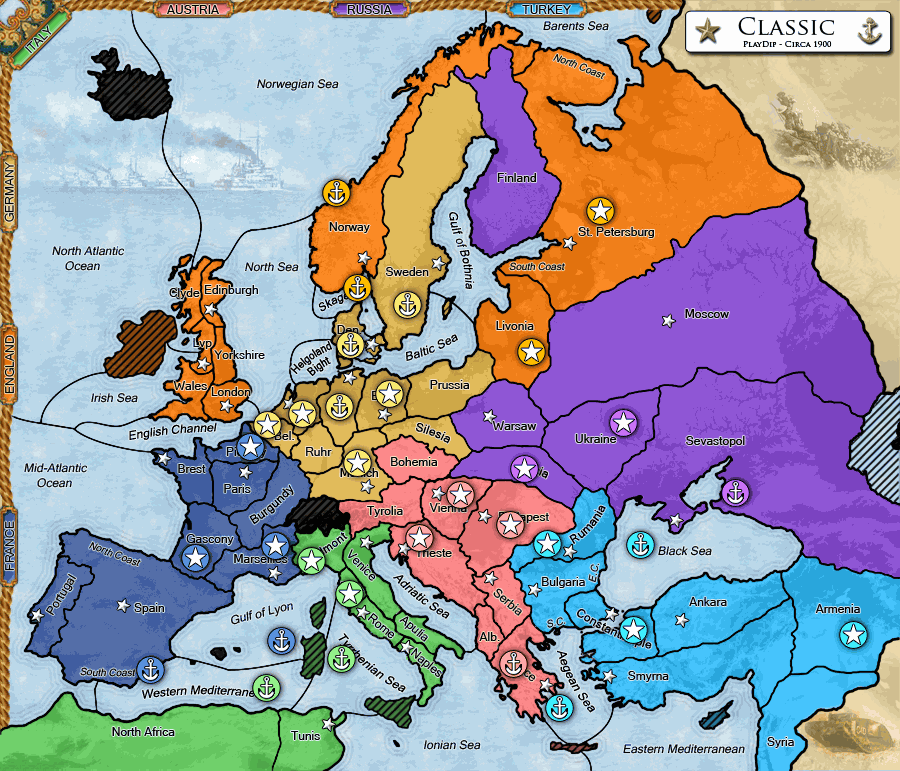 Fortunately, Turkey does indeed build an army. And Austria actually surrenders, which is surprising given his reasonably decent position. The second of many Austrias takes over.
So, to speed things up for a bit - I remain deadlocked against France for what feels like an eternity, where neither of us manage to out-guess the other. Germany does ultimately commit to the French attack, which is great, but I'm thinking there's no way I'm going to make any gains there fast enough to turn around and defend against Turkey, who is surely coming for me any moment. Russia is about done, and either I'll be next, or Austria will leave his defenses so open (as the new Austria seems determined to do) that Turkey won't be able to resist - at which point he'll quickly steamroll him and then come for me.
Indeed, Austria gives Turkey an opportunity to stab for two centers, which is taken: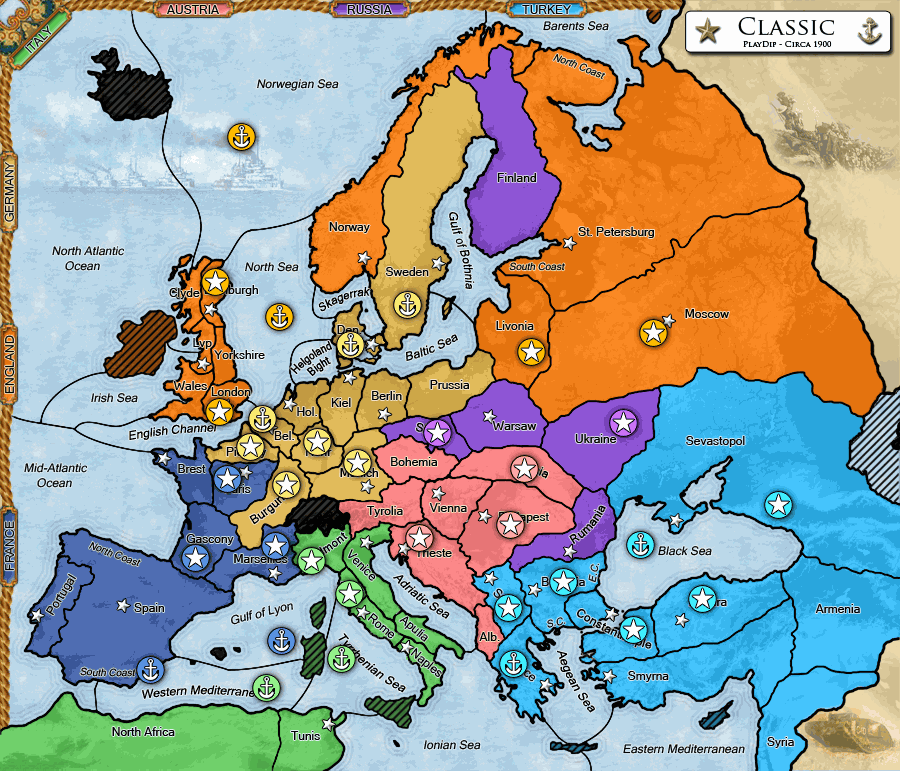 Surprisingly though, I was able to convince Turkey to continue to build armies, with the argument that fleets would clearly be useful only against me, and so would be taken as aggressive. Which is true, but honestly I had no leverage here. If he had built fleets, there was really nothing I could do about it. Even if I'm fully committed against France this year (1904) there's still no guarantee I get a build, and If Turkey moves west with 3 fleets I would need both a build and 100% commitment to have any chance of stopping him. As I write this I'm still surprised he didn't build fleets and attack me here, aside from wanting to focus on one enemy at a time.
Now I've been in contact with France on and off, trying to keep the potential open to disengage if necessary. At this point he tells me he's not planning to advance toward me, so I can pull back. And that I might as well, because he doesn't trust me enough to let his guard down, so we're just going to remain deadlocked otherwise. I was pretty sure that meant he was indeed going to let his guard down to deal with the greater threat that is Germany, and so decided it would be prudent to take another shot at GoL. I also convinced Germany to support me to Mar while he advanced Bel-ENG, since he could force Bre or Par in the fall.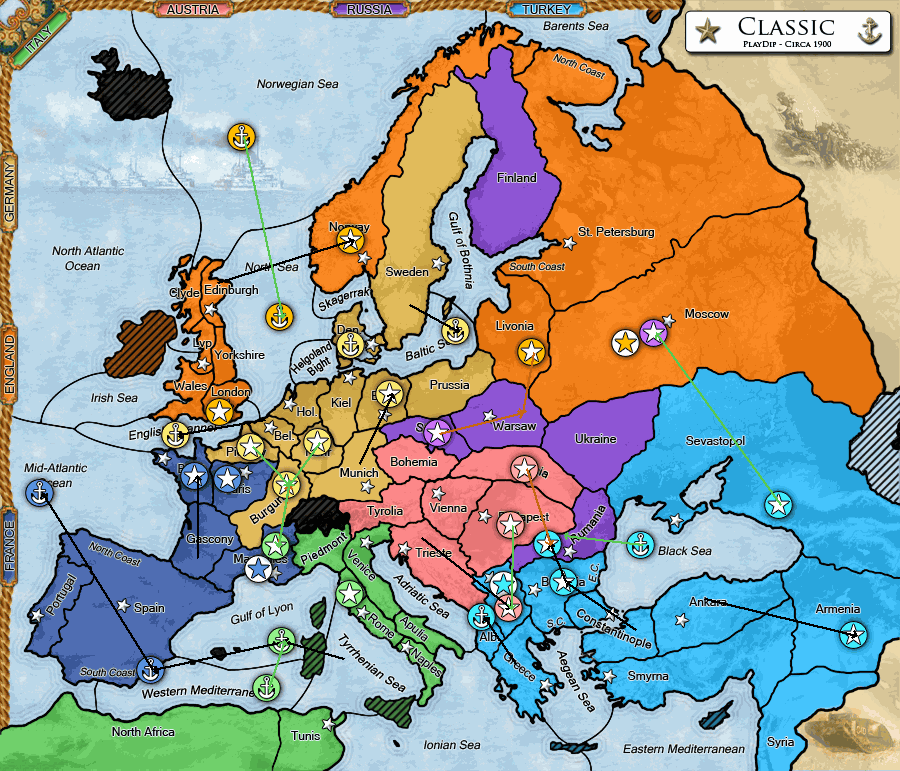 Got some luck, and that ended up working great. Austria (I believe we're on the third Austria now) is at least making things a bit difficult for Turkey, I'm finally making gains against France, and might even manage two this year. The alliance with Germany is also strengthening, as I've suggested a couple of tactical moves that worked out well. And next turn goes even better: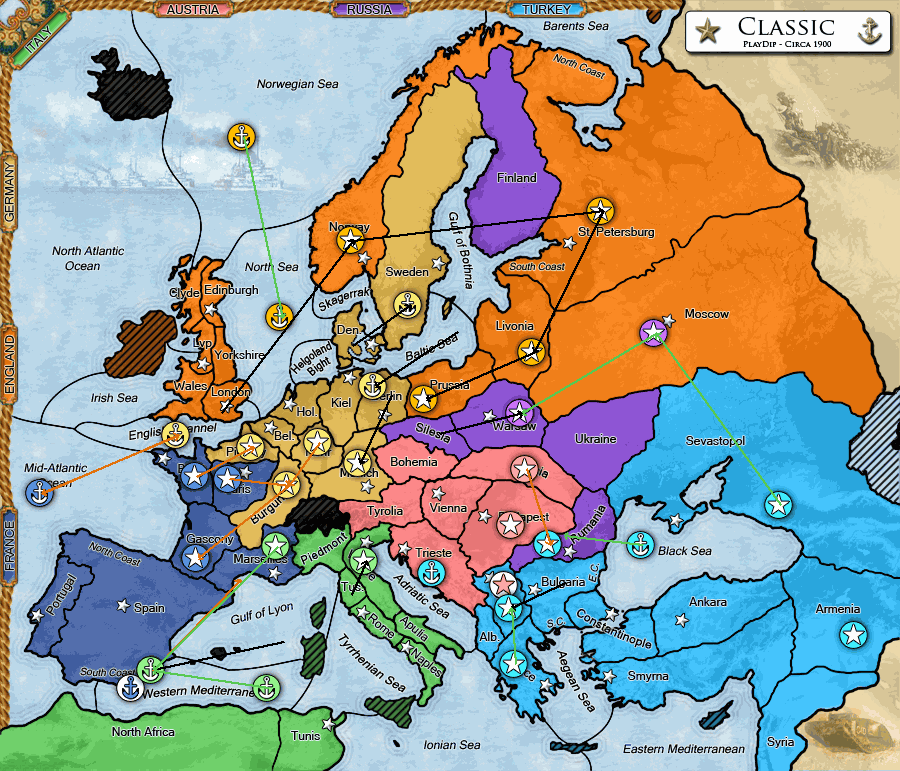 Germany had initially wanted to try for Pic while I tried for Spain, but I convinced him there was a decent chance France would counter-attack Marseilles, so I needed him to cut support in Gascony to help me in, and to make sure France disbands two. He agreed, with my promise that supporting his moves to Paris and Brest next year would be my top priority. And then it turned out France moved exactly as I guessed he might.
The only downside is that the fourth or fifth Austria tried something weird and let Turkey gain two, as well as get that fleet awkwardly into Trieste. I think I have an understanding with Turkey at this point to aim for a 3-way with Germany and I, but getting that out of there will be a bit tricky.
So, I've made enough gains now that I'm pretty sure I can survive this game. The only question is, can I do better than a 3-way draw. Obviously I can't 2-way with Turkey, and Turkey's not going to let me 2-way with Germany. I could stab Germany and probably make some short term gains, but Turkey would still be in a stronger position, and I'd have a solid enemy in Germany, so can't see how that would work out in my favour. I think my best (but still very slim) chance is to try and turn Germany against Turkey, wear him down together, and then stab Germany for the win.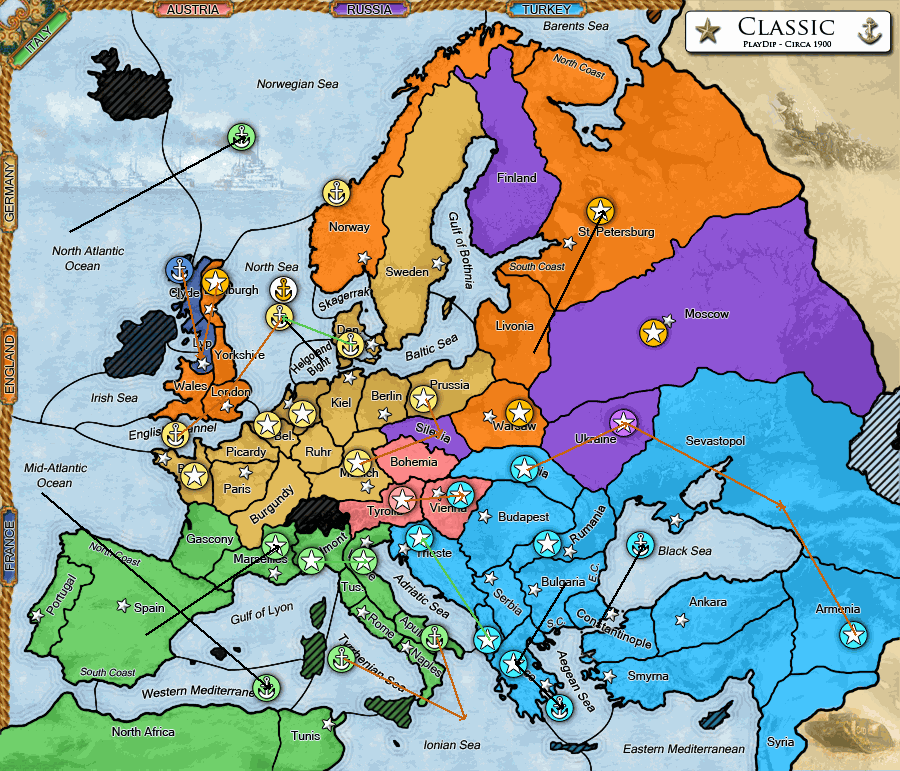 I work one fleet north to assist Germany against England, and give myself a bit of an ace in the hole. Carefully negotiating every turn with Turkey to make sure neither of us is open to an attack from the other. Trying to convince Germany to go for Turkey before eliminating the others.
But ultimately it's not to be. I'm sure Turkey and Germany's diplomacy with each other was as strong as with me, so I wasn't ultimately too surprised. (I was relieved though, that they didn't end up both turning on me!) So, we finish eliminating Russia, France, and the 8th or 9th Austria. (Seriously for a few turns there an Austria joined and surrendered at least once a season...) Once it was down to us and the second England, and then he surrendered, we finally decided it was enough and called the draw.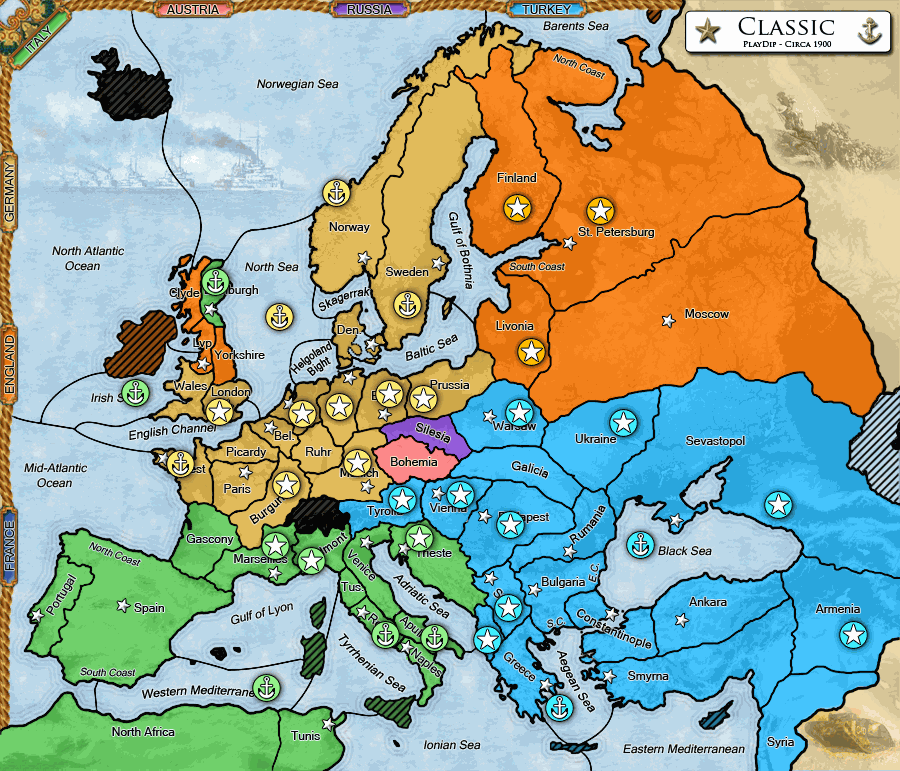 Overall, an entertaining game! I could have done with a few fewer surrenders, but there was definitely some quality diplomacy and tactics in there too. Plus, hard to complain about a game where you spend most of the time thinking you're dead the next turn, then end up in a 3-way draw.