Reflections of a new player – Run through the jungle
Map variant: Standard
game type: regular
Stats: rank
Public: yes
Variants: Classic
Map: mapv2
Background

This was just my second game of press diplomacy – I'd played a few games a gunboat prior to learn the moves but am otherwise new to the hobby. In contrast to my first game, it involved a clearly inexperienced field , with some of the players new to the game like me. A perfect environment then for me to put to use what I'd learned in the first game and see if I could better the result.
I was given Russia, which I was yet to play but was pleased to have a country that I knew had a good record of solos.
1901 – Building a foundation

I had read that Russia must communicate a lot, sow discord in the west, and try to get the neutrals that they are too often denied. My early objectives were to secure an ally in the eastern triangle, and to do whatever I could to get Germany to give me Sweden.
Communication was slow to start with some nations very quiet. Fortunately, the Austrian was thorough though and direct about his strong desire for an RA vs T alliance, which was the first box ticked. Germany was also in touch agreeing dmz's in sil/pru and seemingly pledging Sweden to me. Would Germany help solidify good relations by taking Denmark in the fall I asked? Rather the spring – apparently yes! Box 2 ticked also?
Given early confidence in an Austrian alliance (and a no bounce dmz in Galacia), the possibility of a friendly Germany I set to work looking for a suitable opening. After some consideration I settled on the squid opening:
A Mos – StP
A War – Ukr
F Sev – Bla
F StP(sc) – GoB
In the end, the year went very well and as I'd planned for at the outset – Austria were good to their word, Germany did indeed avoid opening to Denmark and actually went to Helgo (!) , and Turkey bounced the black sea (agreeing only to the bounce retrospectively). In the fall I took both Sweden and Rumania to give the following map :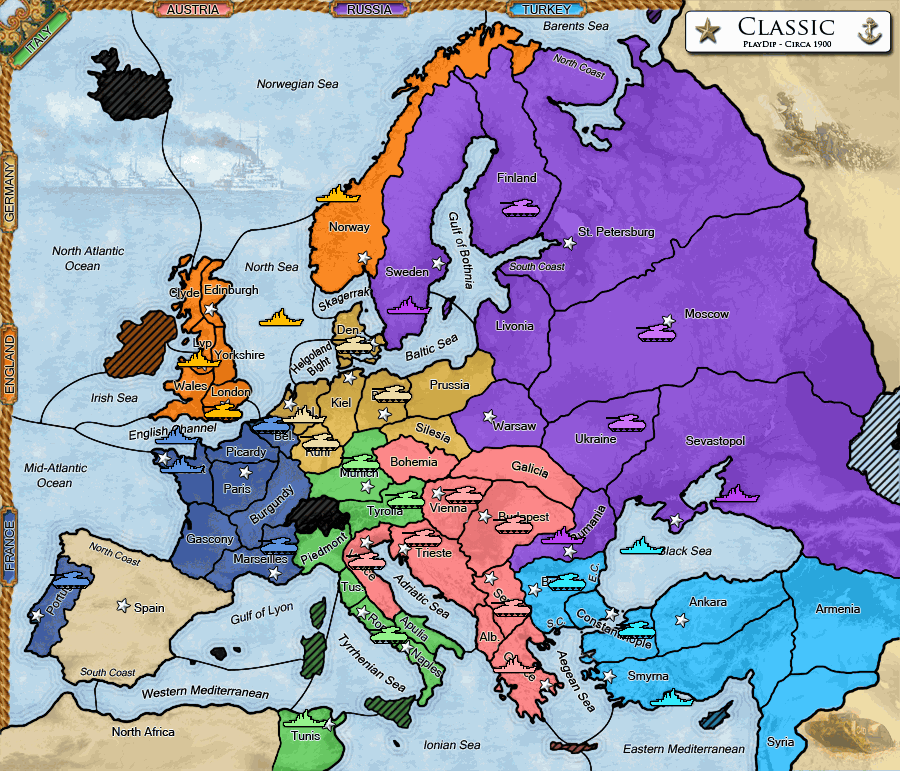 1902 – Taking advantage

Things were shaping up very well, I'd got the first two neutrals surviving 1901, found an ally, and other board events looked good as there was clearly also no EG. Germany was in early trouble thanks to letting Italy walk into Munich, so I had an opportunity to my east. There was only really 1 concern – the rapid growth of my Austrian ally.
Press with Austrian was very friendly, and he seemed very keen on a 2 way draw. A quick check showed a 2way with Austria was at least theoretically possible, being able to form the juggernaut line (Bre-Sev for me) if necessary, and given I'd get 2/3's of Turkey that looked like a good situation if we got that far. I'd be sure to keep an Army in Rumania to disincentivise the stab, and use the partnership to try and roll over a weak board.
Speaking of the board, it become very apparent by the end of 1902 that there was only myself, Austria and France communicating properly and submitting logical orders. By the end of the year, I'd managed to take my first Turkish center (thanks to a misorder) and Norway from a declining England to give the following map: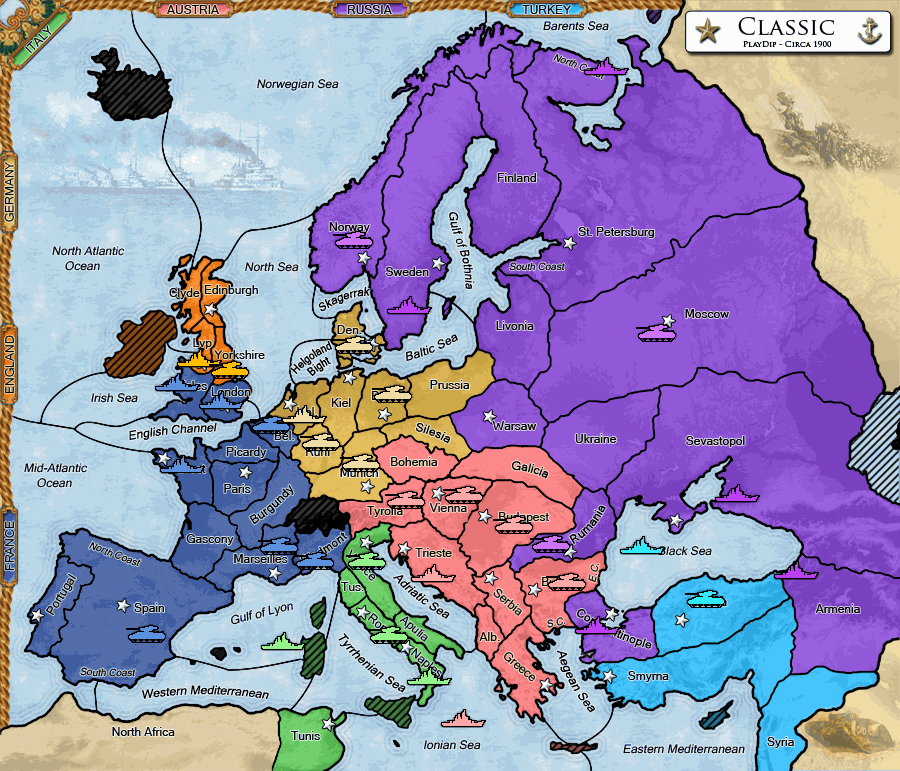 The Midgame – Pulling away

With Turkey in peril, I was starting to look for my next target, and Germany looked appealing – they were allied with France but making little progress themselves and seemingly using their units to help France. As I lined up to move into the Baltic, I sensed they'd also stab me too. I was right, I moved in the Baltic as Germany moved Sil and Pru all in the same turn – it was a foolish stab by the German as we both take a center off each other, but they'd be undefended on a turn when I'd be getting a build from Turkey.
The next year proved decisive – France had stabbed Germany the moment they moved east, and this led to an awful position from which I was able to take full advantage – Germany NMR'd leaving me to take Warsaw, Berlin and Keil in 1 season swiftly eliminating them. I was now at 12 centers and starting to get attention.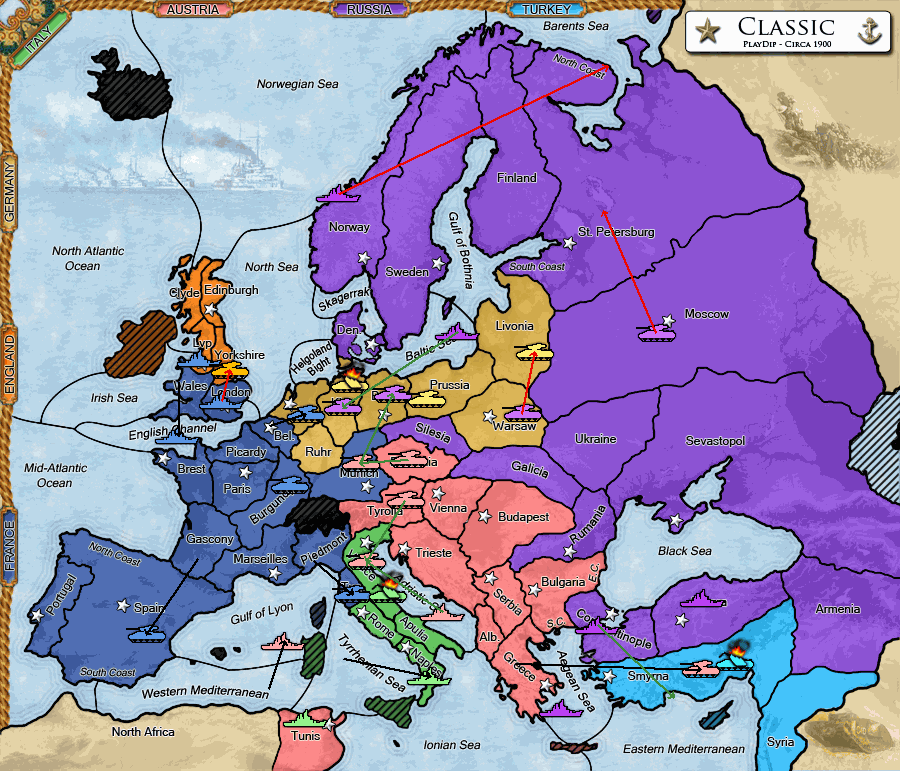 The endgame – draw or stab?
So far everything had gone very well – I was up 12 centers, Austria 9 and we were clearly going to be able to get the 2way if we wanted it.
I had built up trust with Austria from early on, and he'd become increasingly blasé about moving his troops to the frontline, ignoring the Balkans and his supply centers. Fall 05 presented me with the first tempting stab, I could jump to 15 centers with a stab and get position on budapest/Serbia for 06. France wrote to Austria warning him of the possibility which led to us discussing it – I was sure the Austrian was reassured by our discussion but backed away from the stab nonetheless, If I wanted to stab I was sure that another opportunity would present and that I could get through at least another year without a draw vote (open ballot) forcing my hand.
I gained no centers in 1905 but did gain position :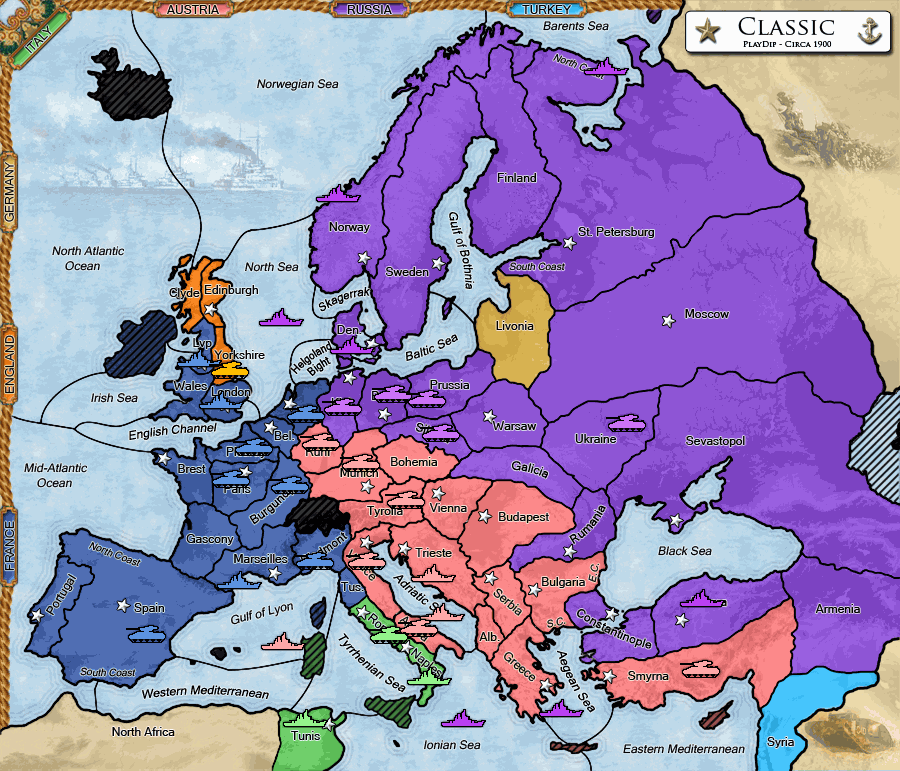 By spring 06 I was more assured – I knew that a successful stab this time would put me on the verge on victory. With the prospect of my first solo I went for the stab , albeit with a heavy heart. The spring stab was a complete success making me a lock to take 4 centers from Austria on top of taking Holland from France for 17 centers. Could I find the 18th center this year? There were several possibilities – Edinburgh, London and Belgium. I wrote to everybody except France, including a long apology to Austria, with my focus on ensuring any stop the leader alliance was beset with problems.
In the end, my choice was easy – Austria was dejected and, seeing his own demise, just wanted the game finished and agreed to support me into Belgium. I made good the stab I'd setup, and ordered nth to bel with support from hol and ruh (Austrian) – in the event, France did not defend Belgium meaning my capture would succeed with or without Austrian support, although he was nevertheless good to his word.
And there it was - from 12 centers to 18 in 1906 for my first solo victory.
Reflections

Wow, this is a brutal game. The elation of winning soured by the sadness in having to stab a solid ally who I'd exchanged probably thousands of words with over the month. If it was bittersweet to me ,it must have been only bitter for the Austrian. Still, this is the nature of the game and 1 over 6 feels satisfying.
Why did I stab Austria?

The key to winning this game was a brutal stab on Austria, without which I would have been unlikely to reach 18 centers.
I knew the moment would come in Diplomacy where I had to make a difficult stab, and I wasn't sure if it would be this game. Ultimately, I stabbed because I knew it was very likely to yield the victory, and it was hard to justify not stabbing.
Russia has the luxury of being able to work towards stable draws with all other countries, and I was willing to do this with Austria, but it seems to me that it requires either 2 savvy players who understand stable 2 way positions, or 2 carebears who will share the draw regardless. Although my main motivation was of course the desire the win, I also didn't feel that playing as a carebear was in the spirit of the game.
The key turning point

Had to be the hapless German stab in 1903 on the same turn I moved on him – although I lost Warsaw that turn he was horribly out of position and lost all his centers the following turn. Gaining 3 German centers to the Austrian's 1 gave me an inexorable supremacy from which I could choose the way I wanted to finish the game.
Lessons Learned
Quite a few – one thing I grasped was never to discount the possibility of a misorder or NMR among some players when figuring upsides of tactical options.
I also realised that you just aren't able to influence some players – despite doing well in my 1901 negotiations, I seemed to lose my influence with some powers as the game progressed without an obvious reason. I will try listening more in my next game as a way of getting something more meaningful from those players.