141034. C-Diplo Series 2018
This was the first filled game of the C-Diplo series. The games are unranked with respect to the site, but we are tracking performance and scores using the C-Diplo scoring system. All games terminate in a a draw after Fall Retreats of 1907 (unless the game ends in a solo or draw earlier than that). Draws must include all survivors.
Read more about the Classicist C-Diplo Series
:
https://tinyurl.com/pd-c-diplo-series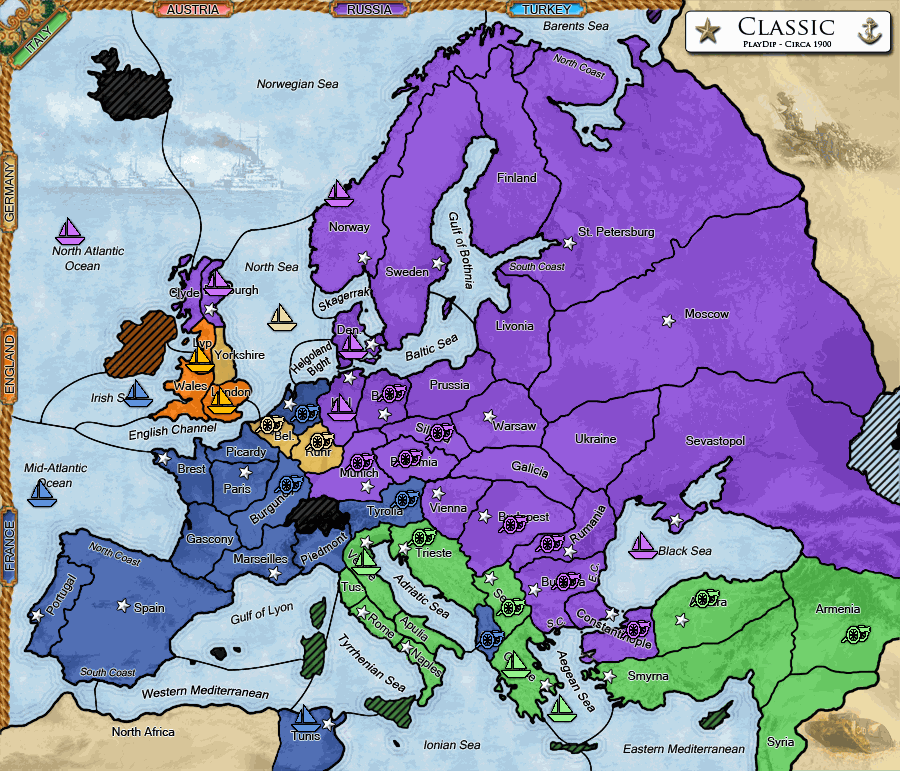 Code: Select all

Rank/ Year Final
Power Player SC Elim Score
----- ------------------- -- ---- -----
1. RU Jackalope 16 55
2. IT Ceasars Geezers 8 23
3. FR Cliff Dancer 7 15
4. EN bigj0e03 2 3
5. GE willie23 1 2
6. TU karadjordje - 1905 1
7. AU NoPunIn10Did - 1902 1
This game was set up as a Casual Classicist game, but it turned out not to fit the full requirements for that. At the time of initial recruitment, the regular Classicist mods were on hiatus, so some leniency was given to players who, from their stats page and Play-by-Forum reputation, looked like they would qualify for at least Aspiring status. This turned out not to be the case for one player, but he was reliable throughout this game, so everything worked out in the end.