The purpose of this thread is to compile stalemate lines on the Ancient Mediterranean map. As usual, only positions protecting 17 centers or less are worth noting. If you find a new line, post and I'll include it. Also post if you find an error!
Eastern Lines
I. Chersonesus-Thebes
:
13 units, 14 centers
Black Sea SUPPORT Chersonesus
Galatia and Miletus SUPPORT Byzantium
Minoan Sea and Egyptian Sea SUPPORT Crete
Sinai and Gulf of Pelusium SUPPORT Alexandria
Reed Sea SUPPORT Thebes
Variation
: If the enemy does not have a fleet in Dacia, then F Black Sea can be replaced with Sinope or Armenia SUPPORT Chersonesus.
Variation
(Omit Chersonesus): Requires that the enemy has no fleets in or around the Black Sea
13 units, 13 centers
Armenia HOLD
Sinope HOLD
Galatia and Miletus SUPPORT Byzantium
Minoan Sea and Egyptian Sea SUPPORT Crete
Sinai and Gulf of Pelusium SUPPORT Alexandria
Reed Sea SUPPORT Thebes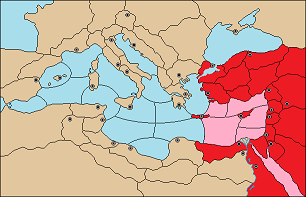 II. Sarmatia-Thebes
16 units, 16 centers
Cheronesus SUPPORT Sarmatia
Dacia SUPPORT Illyria
Macedonia, Athens SUPPORT Epirus
Aegean SUPPORT Sparta
Minoan Sea SUPPORT Crete
Gulf of Pelusium SUPPORT Egyptian Sea
Sinia, Reed Sea SUPPORT Thebes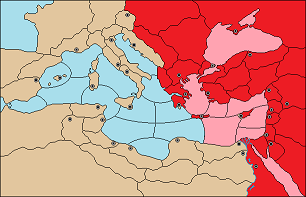 Variation
(add Alexandria):
16 units, 17 centers
Cheronesus SUPPORT Sarmatia
Dacia SUPPORT Illyria
Macedonia, Athens SUPPORT Epirus
Aegean SUPPORT Sparta
Egyptian Sea SUPPORT Crete
Gulf of Pelusium, Sinai SUPPORT Alexandria
Reed Sea SUPPORT Thebes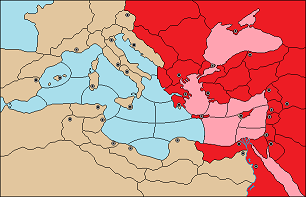 III. Vindobona-Reed Sea
:
15 units, 16 centers
Sarmatia, Illyria SUPPORT Vindobona
Athens, Macedonia SUPPORT Epirus
Aegean Sea SUPPORT Sparta
Minoan Sea SUPPORT Crete
Syrian Sea SUPPORT Egyptian Sea
Sinai SUPPORT Gulf of Pelusium
Reed Sea SUPPORT Sinai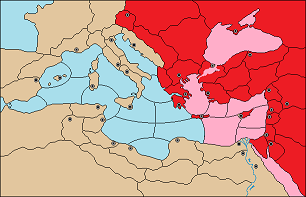 Variation
(add Thebes):
15 units, 17 centers
Sarmatia SUPPORT Vindobona
Illyria SUPPORT Dalmatia
Athens SUPPORT Epirus
Aegean Sea SUPPORT Sparta
Minoan Sea SUPPORT Crete
Gulf of Pelusium SUPPORT Egyptian Sea
Reed Sea, Sinai SUPPORT Thebes
Variation
(add Dalmatia):
15 units, 17 centers
Sarmatia SUPPORT Vindobona
Illyria SUPPORT Dalmatia
Athens SUPPORT Epirus
Aegean Sea SUPPORT Sparta
Minoan Sea SUPPORT Crete
Syrian Sea SUPPORT Egyptian Sea
Sinai SUPPORT Gulf of Pelusium
Reed Sea SUPPORT Sinai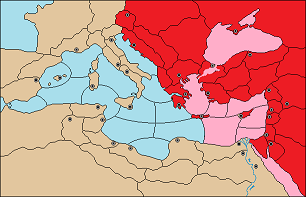 Variation
(add Dalmatia, omit Crete):
16 units, 16 centers
Sarmatia SUPPORT Vindobona
Illyria SUPPORT Dalmatia
Macedonia SUPPORT Epirus
Athens SUPPORT Sparta
Minoan Sea SUPPORT Aegean Sea
Syrian Sea, Cyprus SUPPORT Egyptian Sea
Sinai SUPPORT Gulf of Pelusium
Reed Sea SUPPORT Sinai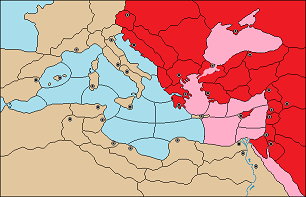 Variation
: (add Dalmatia and Thebes, omit Crete):
16 units, 17 centers
Sarmatia SUPPORT Vindobona
Illyria SUPPORT Dalmatia
Macedonia SUPPORT Epirus
Athens SUPPORT Sparta
Minoan Sea SUPPORT Aegean Sea
Syrian Sea, Gulf of Pelusium SUPPORT Egyptian Sea
Reed Sea, Sinai SUPPORT Thebes