Wet leaves cover the cobblestones as the city prepares for a seige, wreaking chavoc on the streets as the wheels to gun carriages slide every which way. Horses slip and injure themselves under the strain. Meanwhile the rain shows no sign of letting up and the men dig in mud more than dirt.
Fall is here and everyone has until 1600PST or 2400GMT Monday the 5th to get in orders.
Draw proposal for a joint Mexico-Texas victory
Great Britain
-
Rejected
Mexico
-
Accepted
Spain
-
Accepted
Texas
-No Response
Also I'd like to apologize for the delay. I had a few things I needed to take care of.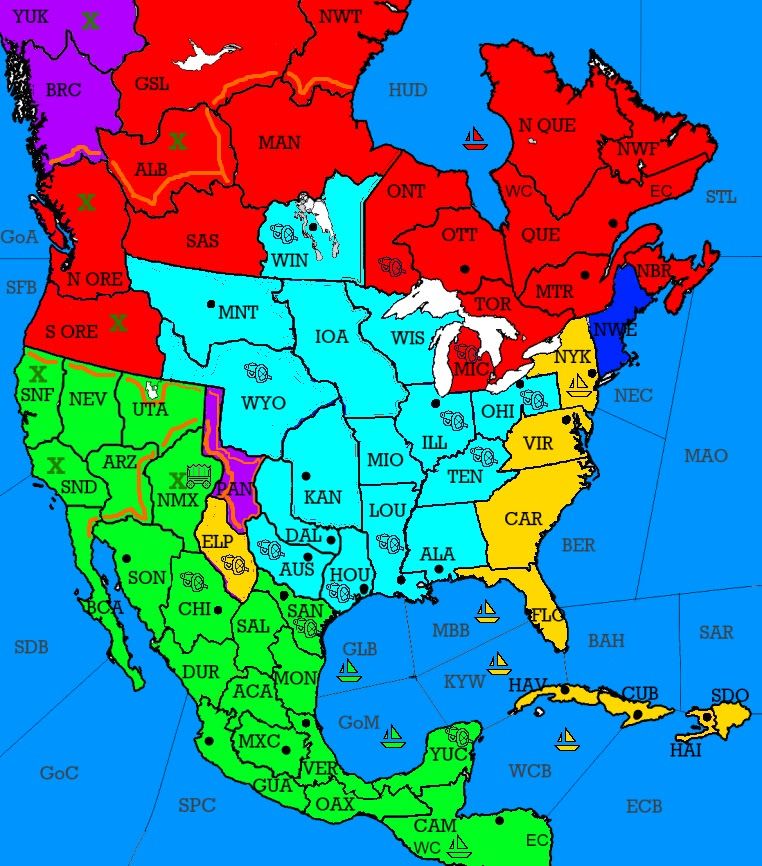 13/25 SCs needed for victory
4/6 NUs remaining.
Spring Orders were:
Great Britain
-Haroonriaz
A (TOR) - MIC
F (HUD) s A (ONT)
A (ONT) H
Mexico
-Asudevil
San support ELP-AUS
GLB-HOU
CHI support SON-NMX
SON-NMX
VER-GOM
CAM-YUC
SPC-CAM
Spain
-Mat.gopack
NMR
Sorry Mat, but with a 24hr reminder and a couple of extra days, you had a fair shot to get your orders in
Texas
-Presser84
A WIN to ONT
A MNT to WYO
A HOU HOLD
A AUS S HOU to HOLD
A WIS to ILL
A OHI to NYK
A LOU S HOU to HOLD
A MIO to TEN