As you wind your ways up the hills, it begins to snow large, heavy, wet flakes. It immediately begins to stick on the cold frozen ground. Boots slip and wagons slide as the regiment works its way up the hill. Your regiment isn't going to get far, you might as well have not even broken camp. The snowpocalypse is here. The mick brigade calls it snowmageddon. Pssht, what do they know.
Here in Seattle we use both terms
Winter is here and you have until Monday the 23th to get me orders. I will need orders by 1600PST or 2400GMT.
For the record,
Texas
&
Mexico
have builds.
Spain
has a disband.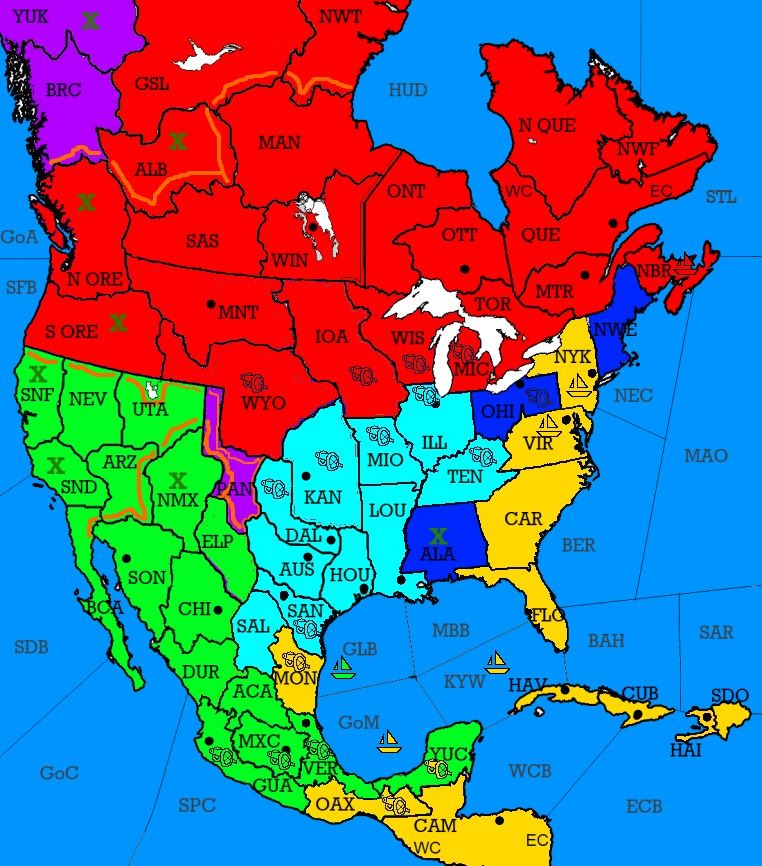 13/24 SCs needed to win
4/6 Native Units Remain
Fall Orders were as follows:
Great Britain
-Yhanthlei
A Mic -> Ill
Bounced 1v2
A Ioa support Wyo hold
A Wyo support Ioa hold
A Win -> Wis
F Nbr hold
Mexico
-Asudevil
MXC support VER hold
VER support GLB-MON
Support Cut
GLB-MON
Bounced 1v1
GUA support VER hold
Support Cut
Spain
-Mat.gopack
Mon S Yuc-Ver
Support Cut
Oax-Gua
Yuc-Ver
Bounced 1v2
MBB-GoM
KYW S MBB-GoM
Vir S NYK to hold
Support Cut
NYK S Vir to hold
Texas
-Presser84
A LOU to KAN
A ILL Hold
A TEN S ILL to hold
A KAN to DAL
A SAL to SAN
A MIO S A LOU to KAN
USA
-Diplomat42
Move to Vir
Bounced 1v2