The period of westward expansion in American history continues to be a fascinating time. The whole genre of "Western" movies, the child's game cowboys & indians, the appeal of cowboys and rugged frontier determination all stem from this point in time, as do several factors which explain the unique culture of Texas, California, Colorado, the American West and America itself. This Variant is designed to allow players to recreate that pivotal time. The land in the west is largely claimed already by national governments, but few people have settled there. Upon settlement the claims to this land were often either strengthened or overturned based on the situation. Starting countries include Britain, the US, and Mexico dominating the mainland. Texas doesn't officially have much territory to start with and Spain lingers off the Eastern seaboard in the Caribbean.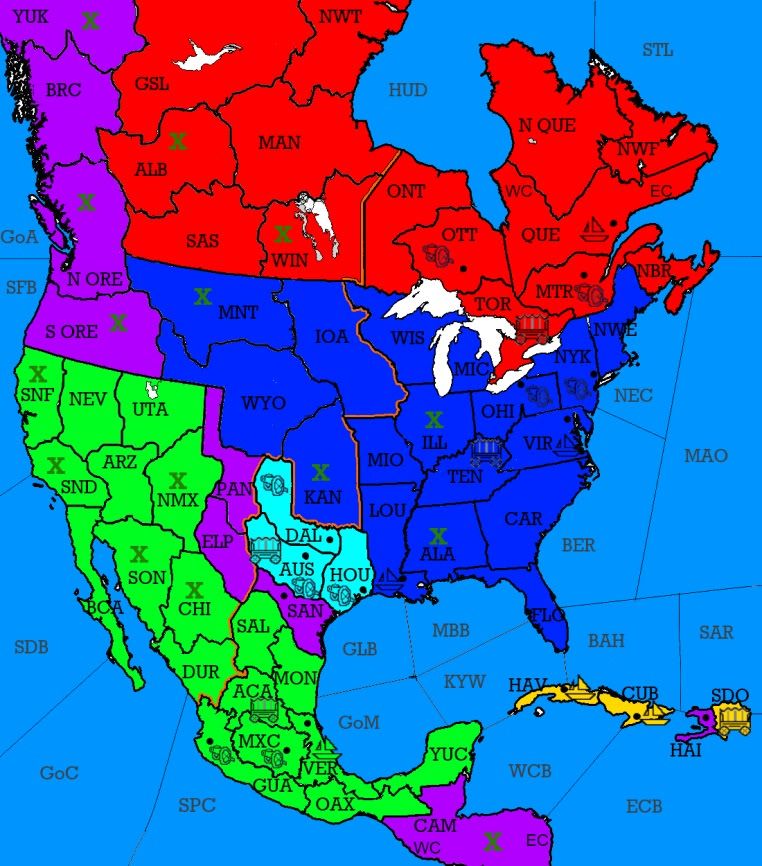 Generally Normal rules apply except that this Variant contains a few unique features including a settler unit, claimed but unsettled land, and the wild west. Victory is the standard 50%+1, but due to the unique characteristics of the game the exact number of 50%+1 may change during the course of the game.
The Settler Unit:
The Settler Unit is a unit without attack or defense, which means that it autodestroys when it tries to enter the same space as a foreign militay unit. A Settler Unit is not destroyed however if it is supported into the territroy. If the Settler Unit meets another unit is of the same ownership or a foreign Settler Unit it will just bounce back (Exception: Spring of the first year in Austin Texas is the only time a Settler may share a space w/ another unit).
Every winter during the build phase, any settler unit on any green "X" regardless of territory color may construct a new Supply Center. This new SC will not build an automatic unit and so a player must wait a full year before he can build there or use it towards their SC count. (Ex: Spain has a Settler unit in S ORE. Spain begins Winter 1841 with 5 units & 5 SCs. Spain builds an SC in S ORE which changes his spring count to 4 units & 6 SCs. By Winter 1842 Spain remains at 4 units & 6 SCs and can now build 2 units, one or both of which can be additional Settler Units.) The Original Settler Unit doesn't count towards one's total number of units.
Settler units may capture Supply Centers.
Because of the unique nature of Settler units, this map by necessity is a "Build Anywhere" map.
Purple areas reflect Neutral areas (Russian Alaska & Haiti & Central America) and disputed areas (Texas between the Rio Grande and the Nueces & Oregon). There are a couple of SCs already built in San Antonio and Haiti, but most of the Purple area is undeveloped.
The Red Line down the middle. This is a rule variant which allows the GM to place 6 invisible Native American Units on the map west of the red line, this area is wild territory. The line is completerly passable. Native American units cannot move and will remain invisible until they have been located by contact with a player's unit, at which point they become visible to all players. They will also cause settler units to autodestroy when they come in contact, but can be dislodged and autodestroyed by a single military unit (or two units, GM's discretion). In this case we will play that they will be autodestroyed by a single military unit.
All Sea Provinces in the Gulf of Mexico contact each other and diagonal movement is permissible.
This game will be run on a 72/24/24 basis with option to finalize. I will send out PM notifications for all relevant phases and will try to send reminders when necessary. NMRs in Spring 1841 will cause expulsion of the offending player and a Repeat of the first phase. After the first phase 2 consecutive NMRs will cause expulsion of the offending player and the GM will seek a replacement. Country assignment will be determined by blind auction.
If you have any questions feel free to ask.
Sign ups are now open:
1.Presser84
2.Diplomat42
3.Mat.gopack
4.Asudevil
5.Yhanthlei
Reserves:
1.Fatmo
2.Palin
3.Haroonriaz
The GM will announce additional awards for good play as fit at the end of the game
Some of the posts below are very old and based off a different leading post and so one can ignore a couple of pages