Yes... I remember the excitement 1 year ago. After several months of development, the site first opened up for the public (with the label "beta" because there was still a lot of work to be done!). I wasn't sure I would find 7 players to start the first game, so I posted the URL on some forums and in the rec.games.diplomacy newsgroup.
I think not 10 minutes later we had the first game going, 20 minutes after that the second game and so on... it has been growing ever since. For me, 200 users would have been a success, seeing how other online Diplomacy sites seemed to get stuck on that number. On January 16th, not 1 month after the launch, I was happy to announce
500 users and 50 active games!
And double the amount of that, 2 weeks later...
It was no big surprise that we
needed a bigger server in May 2008
.
Exactly 1 year after the launch, PLAYdiplomacy.com has 12.000 members of which usually 1.500 are active in more than 500 games at the same time.
Because of the immense pressure of the increasingly demanding community (just kidding, thank you for all the wonderful suggestions!), we just kept on developing new functionalities, including several new variants (Fleet Rome, Build Anywhere and our unique variant: Age Of Empires).
Of course, development costs money... myself, I am not a programmer, so all the work from the very beginning has been outsourced to an external company, the Rumanian developer
eSol ExpertIT (Fit Your Business)
.
PLAYdiplomacy.com, originally set up as a personal hobby project (because I found the other Diplomacy websites lacking functionalities), turned into a real business on August 4 2008, with
the launch of Premium Membership
.
The Premium Membership was introduced with somewhat of a controversy, but if you know that the original budget for the website was 5.000 USD and due to the continuous development to make the site better, the total cost is now 15.000 USD, you'll KNOW that offering a Premium Membership was a step we necessarily HAD to take!
Luckily, we had built up a lot of goodwill (another kudos to the community) and the Premium Membership is a success. We now have 200 Premium Members and counting!
I would like to say Thank You, especially to Tudor Panturu and Iulia Scarlatescu of
eSol ExpertIT (Fit Your Business)
. I'm very lucky to have encountered them, because they are incredible developers. I'm happy to work with them and as a teaser to anyone reading this... we will be releasing a NEW project VERY soon, and still a few others in development as well!
A big applause is needed for Diplomat and Master Radishes, as forum moderators they already did a great job, but they have volunteered to take it a step further and are now very active cheater-hunters! Cheaters unfortunately were a big problem but due to the dedication of Diplomat and Master Radishes I can now proudly say you are playing in a 99% cheater-free environment, as cheaters are swiftly dealt with
Thank you to mdmuff and Grumpy for their moderatorship and advice on the moderator forum. Thank you to Laurence and Wellington for respectively starting the Oldies forum and keeping it alive. Thank you to DRifteR and Master Radishes (again) for hosting the forum games World Diplomacy and Crowded variant. Thank you to Samarkand and Uncle Monty for organizing the first PLAYdiplomacy.com Tournament. You are all well respected for it.
And of course another big thanks and my respect go out to the players of this site and the Diplomacy community. Without you the website would not have been the same, not only because I don't like playing alone (although I am rumoured to have about 5.000 multi accounts), but because you have made almost all of the suggestions on how to improve this site. We have listened to all your comments and constructive criticism and where possible we implemented the changes. A few examples: Fading Echoes scoring system, ability to watch games, speed deadlines and live games, improved "Gamefinder" search functionality and more. In 1 year time, exactly 300 tasks were added to the developers' to-do list.
For this 1 year anniversary, we have of course provided some new features as well!
I'm happy to announce that, as a PLAYdiplomacy.com birthday gift, we have something for everyone!
Available from Monday 22nd of December (unfortunately not immediately):
1) LIVE GAMES: during the holiday season, you might have some spare time? Everyone, including Non-Premium Members, can create and participate in Live Games for 1 month. Live Games are formed on the forum and start on a specific date and time. One member needs to create the game at the proposed time and the others need to join immediately. The game will then progress with 10-minute deadlines for orders and 5-minute deadlines for build/retreats. The game lasts for the proposed number of hours (1 to 9), after which it resolves to a normal game to be played out with a minimum of 12-hours deadlines.
2) CHAOS VARIANT: a new variant! Every nation starts with 3 countries, spread randomly across the map. No Chaos game will start out the same way!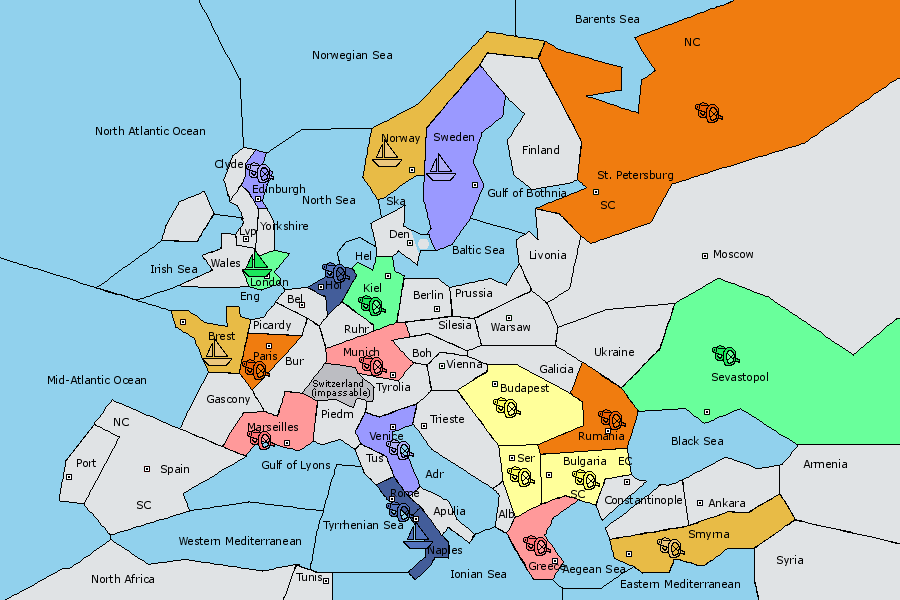 This variant is Winter 1900 (choose which units to deploy at the start) and Build Anywhere (build in every unoccupied center that you own).
Other newly introducted features and fixes in the Birthday release (3.0):
Features:
* Home page redesign: removed double homepage, added forum topics and quick overview of game actions needed
* Detailed Statistics: MORE statistics for everyone! Check out the number of wins per player or per country and other interesting facts about the style of play of every user, the games and this website itself.
* Create game page redesigned: added option "Live game"
* Ranking page redesign: better overview of how points are calculated per game
* Order games by name, number, deadline or actions needed to be taken
* Mark messages as unread: handy for when you want to reply later or need to take action later
Fixes:
* Games in which the user is eliminated don't count as "active games" anymore (influences limit of maximum 5 active games)
* If you didn't select a country while pressing "send message", the message used to be lost. Now it keeps your message.
* If a game is finished and you didn't win, you now also get an e-mail telling you that the game finished (previously only the winner received an e-mail).
* Messages without a subject are sent with <No subject> in the subject, instead of giving an error
* Abbreviations of territories are now the official ones (Lvp instead of Liv for Liverpool, etc.)
* Permanently Checked box before your own country name in the "Statistics" tab, this will hopefully clear up the confusion on whether your own country is included in the proposed draw or not (you always are!)
* Liverpool supply center FINALLY does not have 4 missing pixels in the corner anymore
ATTENTION: The detailed statistics seem to have some bugs... we are working to resolve them!
That's all folks! Many more changes (and a new variant) are coming up next year, so stay tuned...
If you want to support the site, get a
PREMIUM MEMBERSHIP
.
Happy Stabbing!
Jan De Volder
Volo Media Ltd